– AFGHAN WAR IS GETTING WORSE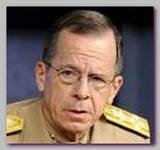 The top US military officer, Admiral Mike Mullen, chairman of the USA Joint Chiefs of Staff, has concluded Afghanistan is in a seriously deteriorating condition.
Admiral Mullen, speaking on CNN's State of the Union television show, on Sunday 08/23/2009, said: "I think it is serious and it is deteriorating, and I've said that over the past couple of years, that the Taliban insurgency has gotten better, more sophisticated in their tactics".
He said the USA command in Afghanistan was not yet at a point where it had asked for extra troops, but he would be guided by the new commander of US and NATO-ISAF forces in the region, General Stanley McChrystal, and his assessment of the situation.
Admiral Mike Mullen echoed General Stanley McChrystal, who told The Wall Street Journal in an interview published on 08/10/2009, that after eight years of war in Afghanistan the Taliban were gaining momentum.
Mullen also said he had been very concerned by last week's massive truck bombings in Baghdad, which killed nearly 100 people.
Speaking of the bombings outside the Iraqi foreign and finance ministries, he said: "The key is whether this is an indicator of future sectarian violence and certainly many of us believe that one way that this can come unwound is through sectarian violence" (see – SYRIAN Double-face).
Polls in the US show public backing for the wars in Afghanistan and Iraq has wilted.
Indeed US military commanders in Afghanistan have told the US special envoy to the region Richard Holbrooke that they need more troops to bring security to the country, a report in The New York Times has said on Monday 08/24/2009.
All wars have the tendency of ups and downs but admitting after 8 years of bloodshed that Taliban is gaining the upper hand and the past eight years were actually wasted, so was the public support for the war, and that only now USA has a "Winning Strategy" means that the war was conducted terribly wrong so far.
* Related topics – 
–
07/2008  CAN'T WIN  THE WAR
08/2009 – AFGHAN ELECTIONS
09/2009 – HOLBROOK "TOUGHER  THAN IRAQ"
.
************A*************
Read more ;
–