– 11 KILLED IN IRAQ BUSES BOMBING
–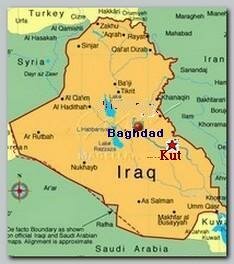 At least 11 people have been killed and more than 11 wounded in bomb attacks on two minibuses near the southern Iraqi town of Kut, on Monday 08/24/2009 afternoon, police said. The bombs, which were attached to the buses, exploded on the road between Kut and Baghdad.
Kut is in a mainly Shiaa area some 150km (95 miles) south-east of the capital.
The attack comes days after a double truck bombing in Baghdad killed at least 95 people, the deadliest strike in Iraq this year.
Police initially said more than 20 people were killed in Monday's blast, but the head of the Wasit provincial council later confirmed the lower toll in what he called "a criminal and treacherous act".
Maamum Thajil, a mortuary official at Zahra hospital in Kut, told AFP news agency that four women and two children were among those who died.  
There has been an escalation of attacks in Iraq since USA troops pulled out of urban areas at the end of June (see – Sovereignty-Day).
But the overall level of violence has fallen since peaking in 2006 and 2007. Attachable bombs, which are known as "sticky" or "magnetic", are commonly used by Iraqi insurgents. 
.
* Related topics – 
–
08/2009 -STRING BOMBS IN BAGHDAD KILLED DOZENS 
08/2009 -DOUBLE SUICIDE ATTACK KILLED 21 IN MOSUL 
.
**********-N-***********
Read more ;
–