– KHALED KELKAL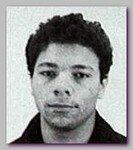 Khaled  Kelkal was born in Algeria on 04/28/1971. Khaled Kelhal, still an infant, came with his mother to live with his father, an immigrant, in Vaulx-en-Velin, a suburb of Lyon, France. He had four sisters and three brothers. Khaled  Kelkal had good grades in school and had a normal life until attending 'La Martinière' high school in Lyon.
Probably under the influence of his elder brother Nouredine (sentenced to 9 years in prison for armed robbery) Khaled  Kelkal then slipped into delinquency. In 1990, Kelkal was sentenced to 4 months with probation for trafficking stolen cars. A few months afterwards, he was arrested for thefts using cars as battering rams to enter private properties. He was sentenced to 4 years in prison.
Serving his time from 07/27/1990 to the 07/27/1992, he met another prisoner called "Khelif", an Islamist who had been sentenced, in 1989, to 7 years in prison. While in jail, Khelif attempted to recruit Algerians to man militant organizations in Algeria.
After his release, Khaled  Kelkal regularly attended the Bilal Mosque in Vaulx-en-Velin. The mosque was headed by imam Mohamed Minta, a sympathizer of the Foi et Pratique ("Faith and Practice") fundamentalist organization. In 1993, Khaled  Kelkal went to Mostaganem, in Algeria, to visit his family. There, he was probably recruited by one of the radical branches of GIA, headed by Djamel Zitouni, whose aim was to "punish France" (see – Abdul Abdullah Yahia).
On the 06/11/1995, Khaled  Kelkal was involved in the assassination of the moderate Imam Sheik Abdelbaki Sahraoui, 85, in his mosque in Paris. Four days later, in Bron, a suburb of Lyon, Kelkal opened fire on gendarmes at a checkpoint and evaded arrest.
On the 08/26/1995, during the 1995-bombings, a gas bottle equipped with a detonation system was found near the Paris-Lyon railway, near Cailloux-Sur-Fontaines (Rhône).
Fingerprints of Khaled  Kelkal were found on the bomb, and a frantic search immediately started. Kelkal was designed "n°1 public enemy", and 170 000 photographs were displayed in all public places in France.
On 09/29/1995, after several days of chasing in the forest of Malval, in hills near Lyon, Khaled  Kelkal was found in a place called "La Maison Blanche". He attempted to resist arrest and was shot dead by the gendarmes.
Khaled  Kelkal was carrying an address book which allowed the police to arrest part of the terrorist network. A few days afterward Boulem Bensaid, Kelkal's superior, was arrested in Paris, as he was setting details for a bombing in a market of Lille (see – Bensaid and Belkacem).
Further investigations demonstrated that Khaled  Kelkal had been the hand behind the car bomb which had exploded in front of a Jewish school, on the 09/07/1995, in Villeurbanne, a suburb of Lyon. The bomb went of precisely at the hour of exit of schoolchildren (out of sheer luck, the school clock was late, and no child was present when the bomb exploded). 
.
* Related topics – 
–
.
*************************
Read more ;
–