– BOUBAKER EL-HAKIM
–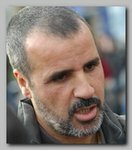 Boubaker El-Hakim was born in 1984 in Tunisia. He grew up in a suburb of Paris in a poor broken family. Boubaker El-Hakim visited Syria in 2002 to study Islam. in a 2003 interview conducted in Iraq as USA troops were preparing to invade, has proven to be an early warning of a worrisome new phenomenon of homegrown militants from Europe heading to Iraq to join the insurgency, driven by anger over the USA occupation and what they see as Western attacks on Arabs and Islam. Boubaker El-Hakim said "I'm ready to set off dynamite and boom! Boom! We kill all the Americans!…all my brothers over there, come defend Islam!". The interview was aired in France on 12/08/2005 in a framework of a program about homegrown terror in France.
Boubaker El-Hakim returned to France in late 2003. In 2004 Boubaker El-Hakim made a further visit to Syria but was arrested in 09/2004 while trying to cross into Iraq without a passport.
His younger brother Redouane El-Hakim, born in 1985, was killed in Iraq fighting the Americans in Falluja, on 07/17/2004, after being recruited by Farid Benyettou.  
Boubaker El-Hakim was expelled, on Tuesday 05/03/2005, from Syria to France. He was arrested in France on 05/06/2005, and was charged before a Paris court for recruiting fighters for Iraq.
On Wednesday 05/14/2008 Boubaker El-Hakim was convicted and sentenced to
7 year in jail,
to be considered from the date of his arrest.
.
* In a live broadcast, on Friday 07/26/2013,
interior minister Ben Jeddou said that Mohamed Brahmi was killed with the same gun as fellow leftist Chokri Belaid (see – Belaid's assassination) and that  a  Salafist is one of the main suspects involved in the killing. Investigations pointed to
Boubaker El-Hakim
, a Salafist radical already being sought on suspicion of smuggling weapons from Libya, as the main suspect, he said.
.
* Related topics –  
–
2005 -ANSAR AL-FATH NETWORK 
2005 -THE NORTH ITALIAN ANSAR NETWORK 
PROFILE -FEMAIL SUICIDE BOMBER MURIEL DEGAUQUE
.
**************************
Read more –
.
620KTAR