– PRAGUE PLOT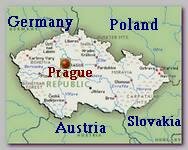 A leading Czech newspaper, Mlada fronta Dnes, reported, on 10/06/2006, that Islamic terrorists had planned to kidnap and kill Jews in Prague. It seems the discovery of the plot was what prompted the terror alert in the Czech capital two weeks earlier in 09/23/2006.
The paper, quoting unidentified intelligence sources, reported that plotters had planned to hold the captives in a Prague synagogue. The would-be kidnappers intended to make broad demands which they knew could not be met, and that they would then blow up the building, killing all those inside. The paper does not say whether arrests have been made, nor does it give details about the identity of the extremists.
The kidnapping threat would explain why the Czech Republic stepped up security measures in the capital. Armed guards were deployed, on 09/23/2006, at dozens of buildings, including train stations and tourist sites, after the government received intelligence that there could be an attack. Hospitals were placed on full alert and Ruzyne airport increased its anti-terror measures. Interior minister Ivan Langer spoke at the time of an increased danger of attack in the capital, saying the situation was "the most serious ever."
There have not been any previous attacks by Islamic extremists in the Czech Republic. The country has a small military presence in Afghanistan and has sent military instructors to Iraq to help train the police force.
Prague's Jewish Quarter in the Old Town is a popular destination for tourists, including many Jews, who visit the centuries-old synagogues and Jewish cemeteries. The city was once home to thousands of Jews, but that community was decimated during the Holocaust. 
.
* Related topics – 
–
09/2006 -OSLO  SYNAGOGUE SHOOTING
11/2003 -ISTANBUL DOUBLE BOMBING
04/2002 -JERBA  SYNAGOGUE BOMBING 
.
*****************************
Read more