– AHMED MUSTAFA IBRAHIM ALI
–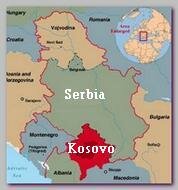 * Ahmed Mustafa Ibrahim Ali, 30, was a Sgt. Maj. Jordanian UN policeman from Palestinian descent who served with the UN in Kosovo.
Jordan's government said Ahmed Ibrahim Ali was a distinguished member of his homeland's special police unit and had been decorated for helping to ward off an attack on the Israeli Embassy in the Jordanian capital, Amman.
On 04/17/2004, when Ahmed Ibrahim Ali was undergoing police training along with UN colleagues in a group of 21 Americans, 2 Turks, and an Austrian, he opened fire on fellow Americans who served with him in Kosovo prison and killed three of them: Kim Bigley, 47, Lynn Williams and Gary Weston, before being shot to death himself by another American policeman.
Four more Jordanian UN policemen have been arrested, and their immunity in the province has been lifted. Authorities suspected Ahmed Ibrahim Ali's subordinates may have played a role because more than 400 rounds were fired. The investigation was examining whether they fed him ammunition, so he could keep shooting. Eventually the four Jordanians were cleared from all the suspicions.
 In addition to the dead, four Americans were wounded in what is described as a 10-minute "shootout" or "gun battle."
An unnamed American police officer told France-Presse that the Middle Easterners had shouted at the Americans that the United States had invaded Iraq and every other country. The same account claimed the Americans shouted back, and the Jordanians started shooting. Reuters, citing "police sources at the scene," also reported that the fight was about Iraq. Both Reuters and AP quoted American police officers as describing a deliberate attack on Americans.
A senior NATO official, speaking on condition of anonymity, said that besides the investigation into any links with Hamas, authorities were examining a trip Ahmed Ibrahim Ali took to Saudi Arabia only a month before he joined the mission in 03/2004 to see if it might be connected to the attack.
It seems that Ahmed Ibrahim Ali was acting on his own and was motivated by his resentment to USA. 
.
* Related topics – 
–
08/2004 -AMMAN – AL TAIFA AL MANSOURA  
12/2011 -
AHMED FARAZ RECEIVED 3 YEARS FOR PROMOTING TERROR 
.
**************************
Read more ;
–