– TARIK SAID RAMADAN
–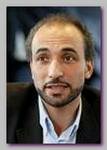 * Tariq Said Ramadan was born, on 08/26/1962, in Geneva, Switzerland. He is a Swiss Muslim citizen and the grandson of Hassan al-Bana, one of the founders of the Muslims Brotherhood in Egypt.
Tariq Ramadan studied philosophy, literature and social sciences at the Geneva University. He studied philosophy and French literature at the Masters level, and Arabic and Islamic studies for his PhD. Tariq Ramadan wrote his dissertation on Nietzsche. He also studied Arabic and Islam at Al Azhar Islamic University in Cairo. Tariq Ramadan is married and has 4 children. His wife is French and converted to Islam after their marriage. He is the brother of Hani Ramadan, the Imam of Geneva Mosque. Tariq Ramadan is promoting integration of Islam in the European society and defines Islam as a "European Religion" (see also – Europe-fears).
In 02/2004 Tariq Ramadan accepted the tenured position of Henry R. Luce Professor of Religion, Conflict and Peacebuilding at the Joan B. Kroc Institute for International Peace Studies, at the University of Notre Dame, IndIana, USA. He was granted a nonimmigrant visa on 05/0/2004. However, on 07/28/2004, his visa was revoked by the US State Department. In 08/2004, a spokesman for US Immigration office cited the "ideological exclusion provision" of the Patriot-Act as the grounds for Ramadan's visa revocation.
On 09/19/2006, the USA government formally denied Tarik  Ramadan's visa application. A State Department statement said: "A U.S. consular officer has denied Dr. Tariq Ramadan's visa application. The consular officer concluded that Dr. Ramadan was inadmissible based solely on his actions, which constituted providing material support to a terrorist organization". Between December 1998 and July 2002, Tarik  Ramadan had given donations of $940 to two organizations designated as terrorism fundraisers (CBSP. and ASP). On 07/17/2009, the USA federal appeals court reversed the decision.
On 06/06/2007, a judge of a French criminal court fined Ramadan 2500 Euros after he assaulted two French border police officers at Charles de Gaulle airport in Paris in 03/2007. 
In 2008 The British Prospect and the American Foreign Policy magazines placed him eighth in a list of the world's top 100 contemporary Intellectuals.
Tariq Ramadan teaches theology at the University of Oxford, UK, since 2005. In 08/2009 the City of Rotterdam and Erasmus University dismissed Ramadan from his positions as "integration adviser" and professor, stating that the program he chairs on Iran's Press TV, Islam & Life, was "irreconcilable" with his duties in Rotterdam. 
Today (09/2009) Tarik  Ramadan is a respectful professor in Geneva University and in the European academy.
* Related topics – 
–
********************************
Read more ;