– ANTI-JEWISH RAMADAN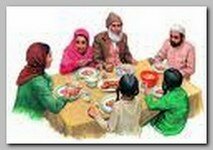 During the month of Ramadan Muslims all over the world are fasting from dawn to sunset. After sunset it is a custom that all the family and friends gather to break the fast with a large meal. The rest of the evening is dedicated to family and friends having time together.  
In the last decades the month of Ramadan is characterized with many new video programs made especially for Ramadan. The programs vary from religious lessons about Ramadan, children programs, culinary programs about what to eat at the breaking fast meal and how to cope, especially in hot weather, with the fast. But a large proportion of the TV programs were all kinds of popular dramas. Most naturally, especially in the Arab world, many of the dramas deal with the Israeli Arab conflict and the Islamic-Jewish relations.  
In the last years, also because of Al Qaeda's impact on Arab societies, the number of anti-Israeli, anti Zionist and eventually anti-Jewish programs, produced especially for the Ramadan season, is raising but it seems that by Ramadan 2010, which began on Wednesday 08/11/2010, many Arabic TV stations in the Middle East become obsessed with Israel, the Zionist issue and especially with anti-Jewish programs. 
In Palestine TV, controlled by the Palestinian Authority of Mahmoud Abbas, the series "I am Jerusalem" described their interpretation to history as if the British Empire deliberately brought to Palestine thousands of Jews to protect British interests, to divide the Arab nation and to serve as an imperial vanguard for the British. In the end of the program the Palestinian heroes vow to fight to liberate Palestine until the last Jew leaves the country (see also – JEWISH STATE). Another entertainment channel "Melody Dramas" issued a comedy which described the Jews as grotesque figures and especially extreme misers. In an Iranian TV Channel they recycle the European Medieval blood libel in which Jews kidnap and kill young non-Jews in order to use their blood in the baking of the matzah, the unleavened bread, Jews use to eat during the Passover. In an Egyptian program in Al-Kahera channel "The Nights of Baby Doll" the actress explain that there is a difference between Jews as such, who are ready to live with their Arab neighbors recognizing Arab sovereignty and Zionists in Palestine who claim sovereignty on Arab soil as theirs. In such a manner Israel and Jews are portrayed in hundreds of TV programs all over the Arab World, throughout the month of Ramadan.       
As a whole the Ramadan Programs in the Muslim world are the most accurate genuine indication of Muslim public opinion and of Arab public opinion in the Arab World. According to Ramadan 2010 TV programs the prospect of genuine peace between Arabs and Israel in the Middle East is drawn

 

further away.
* Related topics –
*************************