AL QAEDA SEEKS OVERTHROW SAUDI MONARCHY
AL QAEDA SEEKS OVERTHROW SAUDI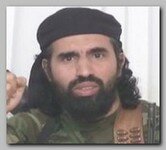 Al Qaeda urged soldiers to help topple the Saudi monarchy and kill Christians and government officials in the kingdom, said Saeed al- Shihri in a audio massage posted on the Internet on Wednesday 08/11/2010, purporting to be a leader of the group.
Al Qaeda ordered supporters in the Saudi army to "collect information on everything related to the Saudi royal family" in an effort to dethrone them, a speaker identified as Saeed al- Shihri, known also as Abu Sufyan al-Azdi al-Shihri (former prisoner no 372 in Guantanamo – see -Ex-Gitmo footage), said in an Arabic-language recording posted on a website that often carries Al Qaeda statements. The identity of the speaker could not immediately be verified.
The group, Al-Qaeda in the Arabian Peninsula – AQAP, has accused the Saudi monarchy of helping the USA to wage war against Muslims through its military campaigns in Iraq, Afghanistan and Yemen. Al Qaeda in June ordered sympathizers in the military to abduct Saudi princes, ministers and Christian residents.
The USA embassy, on 08/04/2010, warned its citizens in the kingdom that it has credible information that unidentified extremists may be planning to attack western nationals in al-Qassim province north of Riyadh, according to a Warden Message on its website.
 "Some members of Saudi government's army requested us to give them orders on whether to stay in their jobs or to go to Yemen to join Al Qaeda's camps," al-Shihri said in the recording. "Unite ranks, call for Jihad within your departments, and form Islamic cells to attract whoever can help in military or political organizational work."
The Al Qaeda leader also called on its followers in the armed forces to attack Israel from northwestern Saudi Arabia. "Carry your arms against Israel, which is only few kilometers away from you," al-Shihri said. "Whoever among you is a pilot should seek martyrdom in the skies of Palestine, and who works in the navy should aim his weapon at the Jews there."
Many al-Qaeda fighters fled across the 1,500-kilometer (930-mile) border to Yemen to escape Saudi Arabia's crackdown on militants. As many as 11 Saudis who returned from the U.S. Guantanamo Bay detention facility, including al-Shihri, escaped to Yemen, Saudi Interior Ministry spokesman Major General Mansour al-Turki said in June 2010 (see also – 83 Wanted List).
* Related topics –





07/2010 -3 AL QAEDA FIGHTERS KILLED IN YEMEN









*************************
Read more