– MOSCOW'S DOMODEDOVO BLAST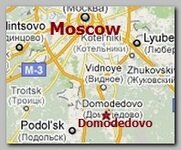 Moscow's Domodedovo airport – the busiest in the Russian capital – has been rocked by an explosion, on Monday 01/24/2010 at about 16:00.
At least 35 people have been killed in the blast and that dozens more are reported to have been injured. Some reports suggest a suicide bomber was behind the blast.
Early local media reports suggested the blast may have hit the baggage reclaim area of the international arrivals hall. The airport is 40km (25 miles) South-East of the city centre, and is popular with foreign workers and tourists flying into the city (see also – Moscow Theater).
According to initial investigation a suicide bomber blew himself up in the international arrivals hall, in the less secured area of Domodedovo airport. Investigators at the airport say they believe a man wearing an explosive device was in the crowd of people meeting arriving passengers. There are reports that the bomb was packed with shrapnel.   Authorities are still looking after other possible suicide bombers. More than 130 people were wounded in the double suicide attack, at least 20 of them critically.
Police are searching for three suspects in connection with the blast after watching airport security camera footages. The men, who have been living in Moscow capital for a certain period of time, reportedly took part in organizing the blast, a source told Interfax news agency. He also noted that these three were believed to be Russian North Caucasus militants and might have been somehow connected to two women, one of whom blew herself up at a practice range club in Moscow, on 12/31/2010, and the other was later arrested, on 01/05/2011, in the city of Volgograd and identified as Zeinat Suyunova, 24. 
Earlier, mass media reported citing unofficial sources that Russian security services had received, indeed, information on preparations of a blast at the Domodedovo airport a week ago, and had been searching for three suspects. Nevertheless, the terrorists found their way into the airport before, and out of the airport after the explosion.
The Russian prosecutor office said, on Saturday 01/29/2011, a 20- year-old ethnic convert Slav, whose name was not disclosed, from Stavropol province was the suicide bomber. They also believe the suicide bomber was trained in a terrorist camp in Pakistan. 
* SEE – DOMODEDOVO BALST INVESTIGATION -2011
 * Related topics ; 
10/2010 -CHECHEN PARLIAMENT ATTACKED, 4 KILLED 

07/2010 -HYDROPOWER STATION IN SOUTHERN RUSSIA ATTACKED 

03/2010 -MOSCOW METRO BLASTS KILLED OVER 37  

12/2009 -RED SQUARE BOMBING 
*************************
Read more ;