– HUNDREDS MILITANTS ESCAPED EGYPTIAN JAILS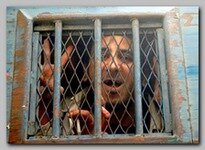 Following EGYPT'S REVOLUTION and the large scale protests against the Egyptian President Hosni Mubarak, thousands of prisoners fled Al-Tora prison in the outskirts of Cairo and Abu Zaabal detention facility in Eastern Cairo, Egyptian sources confirmed on Sunday 01/30/2011.   
Eight members of the Palestinian Hamas escaped from Abu Zaabal, with at least two of them, Mohamed al-Shaer and Hassan Wishah, 27, back in the Gaza Strip Rafah Tunnels  on Sunday, a Palestinian official said on condition of anonymity. Mohamed al-Shaer is a big name in the cross-border smuggling enterprise, who was arrested in Egypt six months ago after completing the hajj pilgrimage in Saudi Arabia. 
Hassan Wishah from El Bourej camp and a member of the Army of Islam in central Gaza Strip had served three years of a 10-year sentence at the Cairo jail for unspecified security offences. Hassan Wishah told AP that all the Palestinians managed to flee from Abu-Zaabal. 
Four other militants who got back into Gaza later included three Hamas members, one of them, Muatasem al-Quqa, was jailed by the Egyptians seven years ago for aiming to enter Israel to carry out an attack. 
And 34 Muslim Brothers, including leaders of the banned Muslims Brotherhood, left their prison at Wadi Natrun north of Cairo unhindered after guards abandoned their posts, The Islamists, who are regularly rounded up and detained by Egyptian security forces, had been arrested on Thursday, two days earlier, either at their homes or during anti-Mubarak protests. 
Brotherhood leader Mohammed Mursi told Al-Jazeera T.V Network that the Islamists had not escaped. "We did not escape. It was residents who opened the doors," he said. "We're fine," he said, adding that Brotherhood leaders Essam el-Aryan and Saad el-Katatni were among those freed. 
Lebanese sources claimed that a commando force composed of Lebanon's Hizbullah, Iranian Revolutionary Guard and Palestine's Hamas fighters stormed into the Egyptian prison of Wadi Natron, which is located some 120 kilometers northwest of Cairo. The task was to free several thousand prisoners, and especially leaders and members of the "Muslim Brotherhood" and activists of Hizbullah, including Hani Sami Shihab, who were detained on charges of planning terrorist operations last year (see – EG Hizballah Network ).
The sources said that the fighters entered Egypt across the Sudanese border. They exploited the security chaos in Egypt amid the popular revolt against the Mubarak regime. There are no evidence to confirm the story. 
Dozens held at a facility in Fayum, south of Cairo, escaped on Saturday evening in clashes that left one policeman dead. Prisoners also fled several small prisons in other governorates in Egypt, but exact details were not immediately available. 
* Related topics ; 
01/2011 -FAMILIAR  HISTORY  

01/2011 -12 MORE MILITANTS ESCAPED IRAQI JAIL 

11/2010 -

EGYPT NABBED A TERROR CELL IN SIANI
***********************
 Read more ; 
ALBAWABA