Victoria Weapons Ship
ISRAEL SIEZED WEAPONS
SHIP 'VICTORIA'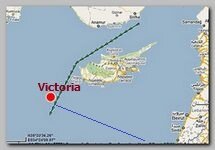 The IDF seized a freighter ship with dozens of tons of weaponry from Iran headed for Hamas in the Gaza Strip on Tuesday 03/15/2011. The ship, known as Victoria, was flying a Liberian flag, and was seized by the navy of the coast of El-Arish in Egypt, 200 miles off of Israel's coast.

The Victoria was boarded by Israeli Navy commandos and is expected to arrive in the Ashdod port on Tuesday evening. An initial inspection of the cargo revealed the ship was carrying weapons.

The exact amount was, eventually, 50 tons of ammunition and military devices .



The crew, questioned by the Navy Commando, was not aware that the cargo contained weaponry.



The ship set sail

from Syria few days ago via

Turkey's Mersin Port to Alexandria, Egypt

, and was expected to dock in El Arish. There, it was supposed to unload the weapons, which would travel by land to Gaza.

Israeli spokesman said Turkey was in no way connected to the ship as far as the IDF is aware

(see – IRan's Momentum).


The Israeli Navy has conducted numerous operations over the years against
Iranian smuggling to Hamas and Hizbullah.

Foreign reports attribute bombings of truck convoys in Sudan as well as arms ships in the Red Sea in recent years to the IDF (see -PORT-SUDAN Bombing).

In November 2009, the Israeli Navy seized the FRANCOP, which was carrying 500 tons of weaponry from Iran to Hezbollah in Lebanon, including Katyusha rockets and grenades. At the time, IDF officers said the amount was enough to sustain Hibullah for several weeks of war.
* According to initial reports, among other things, the Israeli navy seized an Iranian made sophisticated radar use to guide Iranian ground to sea missiles, probably intended to limit Israeli navy operations along Gaza sea shore. Israel also seized 6 c-704 Iranian made ground to sea missiles with a range of 35 km, a range that can easily endanger the Ashkelon oil terminal and Ashdod harbor in Southern Israel. The c-704 is an Iranian version of the Chinese sea to sea missile known AS Silkworm.
* The Turkish Dogan news agency reported, on Wednesday 03/16/2011, Turkey has ordered a cargo plane carrying arms from Iran to Syria to land at a southeastern Turkish airport of Diyarbakir.
* Related topics ;


11/2010 -WEAPONS FROM IRAN TO GAZA SEIZED IN NIGERIA







05/2003 -ABU HASSAN BOAT






01/2002 -WEAPON SHIP 'KARIN A'
***************************