– CYPRUS SEARCHES THE WEAPON SHIP 'MONCHEGORSK'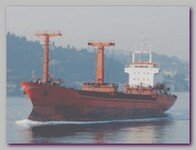 Cyprus officials today admitted, on Friday 01/30/2009, that they were carrying out a search of a ship, 'Monchegorsk', that is suspected of carrying weapons from Iran for Hamas in Gaza. The ship, which had earlier docked in Port Said but was ordered by Egyptian authorities to leave, had apparently been forced by the USA Navy to sail to the port of Limassol in Cyprus on Thursday 01/29/2009.
It seems that the Americans forced the 'Monchegorsk' into the port because it was registered in Cyprus and flying the Cyprus flag.  That, apparently, allows the Cyprus authorities to legally board and search the ship. 'Monchegorsk' is owned by a Russian firm based in Bazel, Switzerland and registered in Cyprus.  
The container ship was stopped by USA forces in the Red Sea last week with a suspected Iranian arms shipment, according to AP, but was allowed to continue its voyage because American forces had no authority to search it. Press reports indicated that the ship was the MT Monchegorsk, operated by a Russian company and headed from Iran to Latakia, Syria.
President of the Republic of Cyprus Demetris Christofias announced that an investigation is underway, and said: "It is a problem for us that we are forced to accept a ship under the Cypriot flag which is carrying whatever is carrying, which is contrary or in conflict with Security Council resolutions", President Christofias noted.
Although the President refrained from stating what the cargo was, and noted it was best to avoid media noise, it has been reported the Cypriot officials found weapons, including heavy artillery rockets, and training materials on how to use them.
During the recent fighting in Gaza, Hamas used Iranian rocket artillery to hit large Israeli cities far beyond the range of the Palestinian's home-made Qassam rockets. The longer range is possible because the rockets from Iran are larger, more advanced, and of better quality (they are produced in advanced arms factories, not in small underground facilities as the Qassams).
**Eventually, in mid 02/2009, the Monchegorsk was allowed to sail on to Syria after few dozen "suspicious" containers were unloaded from the ship and moved for guardianship to a nearby army barrack of the Cyprian army. The containers are sealed and unchecked for further search under UN security council authorization. 
*  98 containers of weapons and machinery to manufacture light weapons, all from the Iranian military industry, were seized and confiscated from the ship.
** 15 Cypriots were killed, on Monday 07/11/2011 dawn, at Evangelos Florakis navy base when stored munitions captured aboard the vessel Monchegorsk exploded in unclear circumstances. Fire from the blast spread to Vassilikos, an electricity facility which provides Cyprus with half of its power.
"We can't assess the extent of the damage, but it's a biblical disaster," spokesman Costas Gavrielides told Reuters.
* Related topics –  
01/2009 -ISRAELI INTELLIGENCE OMISSION
01/2009 -'CAST LEAD' – DAYS 18-19
06/2008 -THE IRANIAN-NETWORK
01/2002 -WEAPONS SHIP 'KARIN A'  

**************************
 Read more :