– BANGKOK'S IRANIAN PLOT INVESTIGATION
–
In 02/2012 an Iranian team of 5 operated in Bangkok, Thailand's capital, to carry out attacks against the Israeli ambassador and other Israeli representativses. The team was uncovered after a "work accident" in Bangkok, on 02/14/2012, 

in which an Iranian citizen,

Saeid Morad

i, was seriously wounded

 (see – Bangkok Incident ).
–

* According to the Iranian passport of Saeid Moradi, 28, he arrived to Thailand, on 02/08/2012, from Seoul, South Kprea, through the airport in the Southern island of Phuket. Saeid Moradi, 28, checked in to Top Thai hotel in Pattaya 2 Road,

about two-hour drive Southeast of Bangkok,

on 02/08/2012 late at night, with a backpack. Shortly afterwards, he called a friend who arrived at the hotel with a large piece of luggage. On 02/11/2002, Saeid Moradi booked his room for one more night. He and his companion checked out, on Monday 02/13/2012 at 11.58 am. Saeid (Saeib) Moradi left a 500 baht tip. 
.

* One of the two foreigners, also an Iranian, identified as
Mohammad Hazaei,
42, police was looking after, was captured in Bangkok's Suvarnabhumi International Airport on Tuesday night (local time). Mohammad Hazaei
was the one who ranted the apartment in in the Ekamai area in central Bangkok used by the suspected perpetrators to assemble their explosive devices and he was, probably, also living in the apartment.

Mohammad Hazaei is suspected by the Thai authorities to be the head of the Iranian operational group in Bangkok.

The third suspect managed to flee the country to neighbor Malaysia.
.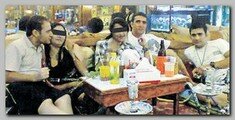 * Pattaya has earned a reputation for its wild nightlife thanks to its thriving red light district. Police have tracked down a Thai woman known as "Nancy" who escorted one of the men, Mohammad Khazaei, during his stay there. The English-language Thai daily published a photograph that it said showed the three suspects relaxing in a hotel bar in Pattaya with two Thai female companions, under the headline: "Suspects partied in Pattay" ."The most important evidence we found are pictures in Nancy's mobile phone taken on the night of February 11 which prove that the three suspects know each other", a senior police officer said.
* "These three Iranian men are an assassination team and their targets were Israeli diplomats including the ambassador," a senior Thai intelligence official told AFP,on Wednesday 02/15/2012, speaking on condition of anonymity. "Their plan was to attach bombs to diplomats' cars" he said. It suggests a similarity and the same "modus operandi" as the attack, day earlier, in Delhi, India. Israel's envoy to Thailand said the explosives found in Bangkok were similar to those used in the attacks in Delhi and Tiblisi, Georgia. "From that we can assume that there is the same network of terror," he said. 
.

* Police in Thailand said, on Wednesday 02/15/2012, the third Iranian suspect involved in a series of blasts in Bangkok has escaped into Malaysia. Immigration police chief Lt. Gen. Wiboon Bangthamai identified the third suspect as Masoud Sedaghatzadeh. Masoud Sedaghatzadeh, 31, allegedly a sales employee in a commercial company on Baharestan St, Tehran, was arrested in Kuala Lumpur airport when he tried to leave the country and board a flight to Tehran and is expected to be extradited back to Thailand soon. 
.

* According to Thai police sources, also on Wednesday 02/15/2012, a fourth suspect, a woman named
Leila Rohani
, 32, is still at large. Police said she left the country

earlier this month, on 02/05/2012, days before the Iranian bomb making team arrived to the country, on 02/08/2012

. Leila Rohani is suspected of arranging to rent the Sukhumvit Soi 71 home, used by the three other Iranian suspects as a bomb workshop. Police Commissioner Pol Lt Gen
Wiboon Bangtamai said Leila Rohani is now in Tehran, Iran's capital. "We could not ask Iran to extradite her to Thailand as we have no extradition treaty with the country," he said (see – Delhi's Embassy Investigation ).
* In all three cases in Delhi, Tiblisi and Bangkok (see – Delhi-Tbilisi Bombings), the same type of magnetic device was used to stick the bombs to the target cars. It was a component of a magnetic sea mine also used by Iranian navy .
*According to a source at the national security agency, prior to the first explosion at the suspects' rented house near Sukhumvit Soi 71, witnesses said they saw an Iranian man in his 50s and 150-160cm tall going out of the house with a large luggage case at about 7am (on 02/14/2012 morning).

* Security footage showed that in the week before the blasts, this man went in and out of the house on a daily basis. He was also seen in the Thong Lor and Khlong Tan areas after the blasts and after Mohammad Hazaei was arrested at Suvarnabhumi. The suspect was identified later as 52-year-old Iranian
Nikkhahfard Javad
.
Nikkhahfard Javad was suspected of being a bomber or taking explosive materials to teach the three Iranians to make bombs, the source said, adding that Israeli officials also gave information to Thai police in this case.
Gen
Pansiri,
depute head of the Bangkok police, stated, on Friday 02/17/2012, that additional evidence — four plastic boxes — were found in a room of Nasa Vegas Hotel where the suspects stayed and police believed they were used as containers for explosive devices.

The South Bangkok Criminal Court has issued an arrest warrant for Nikkhhafard Javad.
* A court in Thailand has issued, on Monday 02/20/2012, an arrest warrant for a sixth suspect, named by police as Ali Akbar Norouzi-Shayan, allegedly a retired accountant in Tehran, 57, over an alleged Iranian bomb plot to attack Israeli diplomats in Bangkok. Ali Akbar Norouzi-Shayan, is wanted on charges of possessing and making explosives also in India .He was filmed by a closed-circuit television camera leaving a house rented by the bomb suspects shortly before a string of blasts on February 14, and is believed to have fled to Iran the same day.
.
**According to the Thai investigative authorities, surveillance photo of Saeid Moradi, shows him holding a radio in each hand .Airing exclusive photos of one of the radio bombs discovered showed the inside of the radio, packed with tiny ball bearings and six magnets. According to explosive experts, the device's design indicates that the bomb was meant to be attached to the side of a vehicle. The Iranian terrorists targeting Israeli facilities in Bangkok planned to use $27 portable radios to hide their explosives, ABC News reported on Tuesday 02/21/2012.
Bangkok authorities said that they recovered more than a pound of military-grade explosives from just one of the bombs. Israeli authorities and US bomb experts, who analyzed the photos, said that the bomb in the photos "is strikingly similar" to the devices used in the attacks on the Israeli diplomats in Georgia and India. It is believed that the devices were either slipped through airport security or smuggled into Thailand in diplomatic pouches.

* Police also found over 300 stickers with the word "Sejeal" in the destroyed bombs workshop, identical to stickers already placed on trees and electricity posts in Bangkok. The investigators believe the stickers were supposed to be used to mark the escape route for the perpetrators after their planned attacks.
* The Thai police said, on Sunday 02/26/2012, they found out that the Iranian female suspect Leila Rohani rented another room at Nasa Vegas Tower in Khlong Ton district .Police, with a search warrant, raided room number 21434 on the 14th floor of the apartment building and detained an Iranian, identified as Madani Seyed Mehrded, 33.

The search came after police received information that Madani Seyed Mehrded stayed in the room most of the time, while another Iranian provided him with hand-carried food and drink. Police found no illegal items but seized a computer, a mobile phone and some other items for further inspection.
The authorities later learned that the suspect had overstayed his visa in Thailand, which expired on 09/29/2011. Madani Seyed Mehrded had entered Thailand on 07/27/2011, two months earlier. Police said that they tracked Madani Mehrded from telephone number information found in the SIM cards of two suspects already in police custody — Saeid Moradi and Mohammad Hazaei
According to police, the call logs on the SIM cards showed Madani Mehrded had regularly communicated with both suspects by mobile phone. On 02/14/2012, Madani Mehrded was allegedly seen in front of the Israeli embassy on Asoke Road. Police said an Iranian working as a chef at a Soi Nana hotel supplied Madani Mehrded with food and drink. The chef lived in the same apartment complex. Madani Mehrded was in the room with foreign women. Both were identified as
Rahimi Rad Iraj
and his wife
Mahboobh Tasbeh
i. They were taken for questioning and released later.
* An Indian court, on Wednesday 03/14/2012, has issued arrest warrants for three Iranians, Housan Afshar Irani, Syed Ali Mehdi-Sadr and Mohammed Reza Abolghasemi, in connection with a bombing attack. 
According to Indian Police Commissioner
B K Gupta
, on Friday 03/16/2012, Iranian national Housan Afshari Irani, who had visited Delhi twice, was in touch with Masoud Sedaghatzadeh, one of the Iranians accused of being one of the bombers in the triple explosions in Bangkok.

Housan Afshar's name and the names of his associates in Delhi were uncovered from Masoud Sedaghatzadeh's cell phone. Housan Afshar Irani also fled India to Malaysia shortly after the Delhi attack occurred, probably in order to meet Sedaghatzade there.
Later, on Saturday 03/17/2012, India issued a fourth arrest warrant for Masoud Sedaghatzadeh himself for his role in the Delhi bombing of 02/14/2012.
* Masoud Sedaghatzade was extradited from Malaysia back to Thailand on Monday 06/25/2012.
* Note

–
The most reasonable guess is that the Iranian trio was in Bangkok to assemble and build the bombs, then to hand them over to a local operational team and to leave Thailand before the attacks were scheduled to be carried out in Bangkok, so the Iranian link was not supposed to be revealed.
* Related topics ; 
–
02/2012 -ANOTHER IRANIAN LINKED PLOT FOILED IN SINGAPORE 
01/2012 -OBAMA IS POINTING A FINGER ON ISREAL  
01/2012 -IRANIAN SCIENTIST MOSTAFA ROSHAN MYSTERIOUSLY KILLED  
******************************
Read more .