– PLOT AGAINST JEWS THWARTED IN AZERBAIJAN
–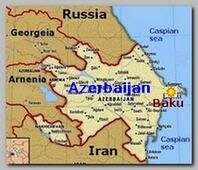 Three men were detained, on 01/19/2012, after planning to attack two Israelis employed by a Jewish school in Baku, the Azerbaijan Ministry of National Security has revealed on Tuesday 01/24/2012 (see also – Baku 05.31.09).
The Azeri ministry said it had arrested a cell that planned to "kill public activists," before it became apparent that the intended victims were two Israeli Chabad emissaries, a rabbi and a teacher employed by the "Chabad Or Avner" Jewish school in Baku, Azerbaijan's capital. The ministry said that the three men, named as Rasim Farail Aliyev, Ali Alihamza Huseynov and Balaqardash Dadashov, an Azerbaijan citizen who lives in the Iranian city of Ardabil, received smuggled arms and equipment from Iranian agents. The action was apparently planned as retaliation to the gunning down of Iranian nuclear scientists (see – Mostafa Ahmadi-Roshan ).

Balaqardash Dadashov (pic), 60, is wanted by the Azerbaijan authorities since 1995 for illegal weapon trafficking, kidnapping of children for ransom and assassinations. Initially he fled to Iraq and later moved to Iran since there is no extradition agreement between Iran and Azerbaijan. The other two suspects are well known to the Local Azerbaijan police as criminal gang members.
The National Security Ministry said that Balaqardash Dadashov had contacts with Iranian intelligence agencies and promised Rasim Aliyev, his brother-in-law in Ardabil, $150,000 to kill foreigners in Baku "in order to put an end to their public service" (see also – Baku-Plot ).
"After Rasim Aliyev agreed to this proposal, Dadashov sent him photos of the people to be assassinated, the layout of their homes, and pictures of their cars," the MSN said in a statement. "Dadashov paid Aliyev a total of $9,300 for preparatory work he had don" an Azerbaijani official statement said.
Rasim Aliyev received the down paymen and then promised half of the money to Ali Huseynov to carry out the assassinations with a sniper rifle that could be used out of the view of security cameras. He also considered using a pistol to kill the victims at their homes. Ali Huseynov agreed bought vehicles and prepared maps and photographs of the intended victims and their cars. Two of them were Chabad rabbis.
"The Azeri security forces acted covertly without alerting us," said Rabbi
Shneor Segal,
one of the two targets. "It was published that they originally planned to attack 'people who look Jewish and hold foreign passports,' near the school, but when the school guards began suspecting them, they started monitoring the area where I live," he told Israeli daily news paper Haaretz. Segal added that the second target was Rabbi
Mati Lewis.
Irani-Azeri relations, which were never rosy, recently deteriorated even further after Azeri Communication Minister Ali Abbasov accused Iran of carrying out a cyber attack against several offices in the country accused of "cooperation with Israel." 
Wafa Guluzade, a political commentator considered close to Azerbaijani President Ilham Aliyev, warned Iran that "planning the murder of prominent foreign citizens in Azerbaijan by a band of terrorists, one of whom [Dadashov] resides in Iran, amounts to 'hostile activity' against our country." Guluzade said that Iran would "break all its teeth trying break us … no Iranian provocation will influence the sociopolitical situation in Azerbaijan. Iran and its primitive ayatollahs sense their end is near and are trying to terrorize their neighbors. If they persists they will be answered by us, and by our Western allies." 
Azerbaijan has accused Iran of supporting Armenia in the conflict surrounding the Armenian enclave of Nagorno-Karabakh. Last November an Iranian parliament member accused Azerbaijan and Turkmenistan of being "local Mossad bases."
* Israel is concerned that Hizbullah and Iran will try to attack Israelis overseas in the coming weeks and ahead of the fourth anniversary of the assassination of Hizbullah military commander Imad Mughniyah, attributed to the Mossad (see – Mughniyahs Death ).
** Hizbullah and Iran, the Revolutionary Guard al-Quds force, used criminal gangs and crime activity, especially drug trafficking, to raise money and finance covered and secret operations all over the world (see – 2008 Drug Gang). Recently, as it was revealed in Manssor Arbabsiar case in USA, in 10/2011, they began to use crime gangs also as contractors to execute and carry out their undercover special operations, which suggests Iran faces extreme difficulties in using their own people.
* Related topics ; 
–
07/2011 -NUC-SCIENTIST DARYOUSH REZAEI KILLED IN TEHRAN 
04/2011 -HIZBULLAH'S "OPERATIONS ABROAD" APPARATUS 
10/2009 -2 HISBULLAH AGENTS SENTENCED TO 15 YEARS IN BAKU
*************************
Read more ;