UMAR ARSHAD
UMAR ARSHAD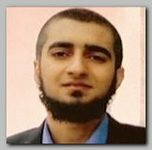 Umar  Arshad was born in 12/1984 in UK to a family from Pakistani descent, who lives in Manchester, and is a British citizen. His family is well integrated into British life and ran a successful business, a garage. A model student at school, Umar  Arshad had won a place to study at the university in his hometown Manchester in 2004. Umar  Arshad attended the local Mosque with his father and brother but not out the ordinary.
Umar  Arshad when he was an undergraduate studying pharmacy at Manchester University. However, in 2006 Umar uncharacteristically failed his second year exams. Dropping out for a year Umar  Arshad began working at the garage with his father
Mohammed
. It was there that Umar was befriended by one of the many clients bringing in cars for repairs. Umar was soon spending most of his time with his new friend. He began talking about religion and politics. He attended mysterious meetings about Islam, stayed out late. Within a short time the once demure boy preached his mother that she had "lost her faith", that she was following a wrong form of Islam. The family did not know it at the time, but Umar  Arshad had become friends with a group of committed extremists living on the other side of Manchester in Cheetham Hill. Among his new friends were the Pakistani student Abdul.Rahman, 25, who would later be convicted of disseminating terrorist literature, and his friend from Pakistan
Aslam Awan
, who would later head to the Afghan-Pakistan border area to fight British troops.
By October 2006, Umar  Arshad, it seems, had decided that he should join the jihad abroad. He told his family that he was leaving and would not be coming back. Concerned about stories of youngsters being radicalised and for Umar's welfare, the family contacted the police. Umar  Arshad was staying with the Al Qaeda supporters at Abdul Rahman's house in Manchester, and, unknown to the family, police had the group under surveillance as part of a wider terror investigation.

On 01/03/2007, 10 weeks after the family first contacted the police and after further attempts by the family to get the police to take action, Umar was served with a control order by the police – the form of close supervision of terrorism suspects introduced in 2005. Despite the seriousness of a control order, and the tight restrictions it places on a suspect's movements, Umar  Arshad was given a full 24-hours before he had to surrender his passport. That evening he asked to visit a mosque. His family dropped him off but when they returned he had gone – never to be seen again. Umar was driven by a friend to Birmingham, bought a plane ticket for Tehran and flew later that day at around 6pm. His old extremist friends at Cheetham Hill had arranged everything, and even paid for his airfare
. Umar  Arshad's deeds and whereabouts since then remains an enigma.
* Umar  Arshad is one of seven people who have absconded after being placed under the orders, a loose form of house arrest. Most are thought to have left the country and join Al Qaeda (see also -Illegal Orders).
* Related topics ;


04/2011 -U.K'S STANDARDS

04/2011 -LONDON'S TALIBAN

LONDONSTAN

****************************