EGYPTIAN JIHADISTS
THE FACE OF EGYPTIAN JIHADISTS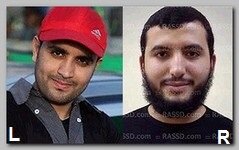 An israeli soldier, Cpl.
Netanel Yahalomi,
was killed in a clash with a Jihadi terror squad which tried to infiltrate from Sinai Peninsula into Israel in order to carry out a sophisticated ambush on Israeli soldiers patrolling the border. The incident occurred in Mount Harif, a remote desert area on the common Israeli Egyptian border. A Salfist organization operating in Sinai Peninsula, "Ansar Bait al-Maqdas" took responsibility on the shootout. The organization is comprised from local Bedouins and Jihadi volunteers from all over the Muslim world, many of them with a background of fighting in Yemen and Libya.
Three terrorist were killed in the attack. The identification of the bodies of two terrorists killed in the fighting found that one of the militants was an Egyptian citizen
Ahmad Wagih (L)
, 31, a musician, a soloist in a band of Islamic religious music "Al-Nour", a father of two daughters from Menoufia (Minufiya) province in Lower Egypt, North West of Cairo. Ahmad Wagih had no previous military experience. The second militant was identified as
Bahaa Zaqzouq (R)
with a degree in literature from Menoufia University and a father to a daughter. His family is from a high socio-economic background, his father,
Dr. Abdelaziz Zaqzouq
, is a known academic figure and a Doctor in the Engineering .Faculty in Menoufia University. Their friends and relatives did not recognize any special Islamic radicalisation in previous months. The father was a member of the Muslims Brotherhood but before the recent elections turned to be a supporter of the Saslafist candidate Dr.
Hazem Salah Abu Ismail (see – Salafi Movement).
Both spent two months in a radical salafi Mosque in Cairo's Nasser neighborhood to prepare themselves for the mission and told their families they went to a special "summer camp". The third body was not yet identified. The families of the two terrorists said they believed at the time both went to fight with the rebels in Syria (see – SYRIAN DILEMA).
The Nasser Mosque was, probably, a recruiting base for "Ansar bait al Maqdas".
* Related topics ;


09/2012 -PREMEDITATED COINCIDENCE

09/2012 -MILITANTS ATTACKED PEACEKEEPING MISSION IN SINAI

*****************************************