– LIBYAN VETERANS KILLED IN A BORDER ATTACK IN ISREAL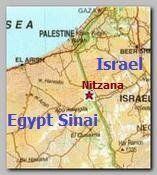 Two Jihadists who fought in Libya, Abu Hudhaifa al-Hazali from Saudi Arabia and the Egyptian Khaled Saleh were killed in a failed suicide attack in Southern Israel on Monday 06/18/2012. A third assailant fled back to Egypt
A Jihadi squad of three, two of them on a motorcycle, attacked on Monday morning a group of Israeli workers who build a new security fence on the common border between Egypt and Israel in Nitzana. They detonated an improvised explosive device and then opened fire on two vehicles carrying construction workers killing the Israeli citizen Said Pashpashe. The tow then penetrated into Israel riding a motorcycle in order to carry out what seems to be a suicide attack in one of the Israeli nearby villages. The two were killed by Israeli troops before causing any damage. The third assailant, who stayed behind in a sort of cover up managed to flee back to Egyptian Sinai.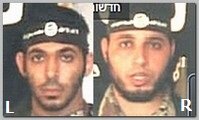 The two, wearing suicide explosive belts were identified as the Egyptian Khaled Saleh (R), 25, nick name Abu Salah al-Masri, and the Saudi citizen Abu Huzaifa al-Hazali (L). Similar to the attack near Eilat on 08/18/2011 (see – Eilat Assault 2011), a previously unknown group calling itself the Mujahideen Shura Council of Jerusalem (Al-Quds in Arabic), led by Hisham al-Saidni, distributed on Tuesday 06/19/2012, through the Egyptian independent daily al-Masry al-Youm (Egypt Today), the Associated Press in the Gaza Strip and through Jihadi websites a video clips in which they took responsibility on the attack. "We will head soon to execute a dual martyrdom operation targeting the forces of the Zionist enemy on the Egyptian borders with occupied Palestine… on June 18," read one of the alleged future assailants, who gave his name as Abu Huzaifa al-Hazali. He said he came from the Arabian Peninsula, without specifying his home country. "To the Jews, the enemies of Allah, we say: you should know, you infidels, that the future is different from the past… The time of negotiations and compromises is over," he said, apparently referring to the stalling peace talks between Israel and the Palestinians. According to Israeli intelligence sources Abu Huzaifa al-Hazali was himself a veteran of the libyan civil war.
According to the footage Khaled Saleh – Abu Salah al-Masri, lived in Egypt's Matrouh region and visited Libya just after the full-scale LIbyan Civil- War began on 02/17/2011. Al-Masry al-Youm further reported the Saleh, 25, joined one of the Libyan jihad organizations that took part in attacks against Gaddafi's forces. Khaled Saleh remained in Libya for five months following a bullet wound to his right leg. He then returned to Egypt where he received further medical attention.
In some Jihadi website the Mujahideen Shura Council of Jerusalem, also known as Ansar Bait al-Maqdas, claimed the attack was dedicated to "Sheik Mujhahid Osama Bin Laden," the Al Qaeda founder who was assassinated by U.S. troops last year during the Abbottabad Raid.
The attack sparked another round of clashes and exchange of fire between Israel and Hamas controlled Gaza Strip, mainly with organization known as Jaljalat, in which more than 150 rockets and mortar shells were fired toward Israeli villages along Gaza borders. On Wednesday 06/20/2012, Israel killed another Jihadi militant in Gaza who also played a central role in that attack on Monday Ghaleb Armilat and severely wounded his boss Mohammed Rashdan, a resident of Rafah in southern Gaza, was a member of the Tawhid wal Jihad organization and that he had been involved in weapons transfers, firing rockets and mortar shells at Israel and smuggling terror operatives in and out of Gaza.
Tawhid and Jihad is a shadowy radical Islamic group in Gaza, believed to be inspired by the ideology of Al Qaeda. The group's name first surfaced in Gaza in 2007, when it claimed to have kidnapped and killed Alan Johnston, a BBC correspondent. Mr. Johnston was later released alive. In April 2011 when the group said it had kidnapped an Italian citizen, Vitorio Arrigoni, in the Palestinian territory and threatened to execute him unless Hamas, the Islamic group that governs Gaza, released the group's imprisoned leader by a set deadline. Tawhid and Jihad released a video, similar to those released by extremists in Iraq and Afghanistan, that it said showed the hostage (see also – Al-Jora Clashes ).
*The "Magles Shoura al-Mujahddin" (The Shura Council of the Mujahiddin), probably the same 'Mujahideen Shura Council of Jerusalem", distributed through Jihadi website, on Friday 07/27/2012,

a in which they took, again, responsibility on the attack.
The men who according to the video carried out the attack, identified as Egyptian Abu Salah and a Saudi, Abu Hudhaifa, said they sought revenge for "Muslims' blood" and dedicated the attack to Ayman Al Zawahiri, Al Qaeda's leader.
"We will head shortly to execute a double suicide operation targeting the Jewish enemy forces on the Egyptian borders," Abu Salah said, reading out from a piece of paper before the attack with a black flag in the background covered with religious slogans.
Another Jihadi group named "Ansar Bayt al-Maqdes" claimed in an online videok its responsibility for gas pipeline blasts, on Sunday 07/21/2012. The pipeline was empt after being targeted for 15th time since spring 2011 (see – Green-Curtain ). 
* Related topics ; 
05/2012 -MORE LIBYAN WEAPON SEIZED IN EGYPT

04/2012 -

ISRAELI RESORT OF EILAT WAS HIT BY GRAD ROCKET

03/2012 -

SINAI'S BEDOUINS CHALLENGE EGYPTIAN SOVEREIGNTY
********************************************
POST-GAZETTE