– MORTEN STORM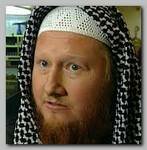 Morten  Storm, a Danish citizen, was born in 1976. He grew up as a petty criminal, moved within jihadist circles after converting to Islam in the late 1990s — becoming known as Murad Storm. One video clearly shows him at a rally of militant Islamists in London in 2005, listening to a speech by the extremist preacher Omar Bakri Muhammad. According to the Danish newspaper Jyllands-Posten, in early 10/2010, Morten  Storm was by then on the radar of the PET because of his links with Islamist militants.
As committed jihadist, family man and outdoor sports enthusiast Morten  Storm helped run a UK-based enterprise called Storm Outdoors — on which his instructor's profile speaks of his time "living with the Beduins in the Deserts in the North of Yemen." Morten  Storm, who befriended al-Awlaki in Yemen in 2006, claims he approached Danish intelligence later that year after becoming disillusioned with radical Islam, and subsequently worked with them and the CIA to locate and target the cleric. His connection with the Jihadi circles in Europe and accessibility to Yemen made him a perfect candidate to become a double agent for Western European intelligence agencies in the Jihadi conglomerate.
It is believed that by late 2006 Morten  Storm became a collaborator for the Danish security service known as PET. Morten  Storm worked with the CIA and Danish intelligence to track down American-born Al Qaeda cleric Anwar al-Awlaki,.
The first opportunity came after Morten  Storm met with al-Awlaki in a desert camp in Yemen in 09/2009. He said that after he passed on details of al-Awlaki's location to his Danish and American intelligence handlers, Yemeni forces carried out an assault on the house al-Awlaki had been staying in, killing the owner but al-Awlaki had already left.
The second attempt, Morten  Storm told Jyllands-Posten, was the planting of a tracking device in the luggage of "Aminah" a Croatian convert to Islam, when she traveled to Yemen to marry al-Awlaki in 06/2010.
Morten  Storm said he arranged the match after al-Awlaki had requested he find him a Western bride during a previous meeting. Though Storm said he was paid $250,000 by the CIA for arranging the match, the operation failed after Al-Qaeda in the Arabian Peninsula – AQAP operatives told Aminah to repack her luggage before traveling from Sanaa to Yemen's southern tribal areas to marry al-Awlaki.
The third and successful attempt, in 09/2011, according to Morten  Storm, involved him arranging the handoff of a USB thumb drive with a secret tracking device to an al Qaeda courier taking messages onto al-Awlaki.
According to the Jyllands-Posten Morten  Storm stopped working for them earlier this year (2012). Storm claims the Danish intelligence agency offered payments totaling 1.5m Danish Krone ($260,000) over a five-year period. He told the Danish newspaper that PET had offered him the money tax free, after the agency became aware that he was considering going public with his story. But he said he rejected the offer because PET had broken a series of promises to him, including providing permanent residence status in Denmark for his foreign wife.
PET and CIA have neither confirmed nor denied Storm worked for them. PET has made no public comment on Morten  Storm's latest allegations.

The Croatian newspaper Vecernji List, in articles published Wednesday 10/24/2012 and Thursday, claimed it had unveiled the true identity of the Aminah, the Croatian women Storm arranged for al-Awlaki to marry in the hope she would lead the CIA to his location. The newspaper identified Aminah as Irena Horak, 35, who had previously worked in a care home in Zagreb and had converted to Islam in 2008, and it posted several pictures of her. The paper reported — according to close friends — Horak, a cheery athletic blonde from a small town in central Croatia converted to Islam after falling in love with a Muslim lawyer from London she met at a wedding in summer 2008. Horak had been brought up Catholic.
The two started a long-distance relationship, but after throwing herself into her new religion, Horak came to feel her boyfriend was not sufficiently devout because he drank alcohol and failed to wake up for morning prayers. That resulted in her leaving him, according to the newspaper. "She changed her life habits completely and way of dressing," and spent all her time in the mosque one friend told the newspaper. "She was looking for someone more radical and found him in al-Awlaki," the newspaper reported.
Morten  Storm told Jyllands-Posten he first came into contact with Aminah, the Croatian convert, in late 2009 through Facebook, and that she soon warmed to the idea of marrying al-Awlaki. At a meeting in Vienna in spring 2010, Storm showed Aminah a short video recording made by al-Awlaki, who was dressed in white robes in front of a pink background with a floral motif.
"This recording is done specifically for Sister Aminah at her request … I pray Allah guides to that which is best for you in this life and in the hereafter. And guides you to choose what is better for you regarding this proposal," al-Awlaki said, in a section posted on the Jyllands-Posten website.
Storm said Aminah burst into tears when she heard these words. She then recorded two short videos for al-Awlaki. In the first video, she wore a full black veil with just her face visible. Speaking in heavily accented English, she said: "I will accept everything that is needed to do now this way that I have chosen and Inshallah Allah will help us." In the second video, Aminah took off her veil and said: "Brother, it's me without the scarf, so you can see my hair … I hope you are happy with me, Inshallah," according to Jyllands-Posten.
Aminah's whereabouts today are unknown. Morten  Storm is in hiding after several death threats from militant Islamists who were once his comrades.
* Related topics ;
*****************************
CNN EDITION A
CNN EDITION B
TELEGRAPH-U.K
RADIOSARAJEVO
INDEPENDENT