– TAMERLAN & DJOKHAR TSARNAEV
* Tamerlan  Tsarnaev – 
The Tsarnaev family, originally from Chechen origin , lived, initially, in Kyrgyzstan were many Chechens were exiled after World War II by the Stalinist regime of Russia. In the late 90s' the family moved to Dagestan, on the Caspian sea, neighboring Chechnya in the Russian Caucasus.
Tamerlan  Tsarnaev was born in 1986 in Kyrgyzstan. He arrived to USA in 2004 legally to join his brother Djokhar. The family appears to have settled in Cambridge, Massachusetts,not far from the main campus of Harvard University and the Massachusetts Institute of Technology- MIT.
In 2009, Tamerlan Tsarnaev was reportedly arrested for assaulting his girlfriend . In the same year he married to middle class college student Katherine Russell, 24, a Christian who converted to Islam for her husband. The couple have a three-year-old daughter called Zahara. Tamerlan was regularly seen at his wife's family home in Rhode Island.
Tamerlan  Tsarnaev fought for a while, in 2010, as a competitive boxer, taking time off from his studies at Bunker Hill community college in Charleston, Massachusetts. At that period of time he got acquainted with Ibrahim Todashev, who was later shot dead by an FBI agent in Florida, on 05/22/2013,  as he was "about to sign a statement" admitting to a role, along with Tamerlan  Tsarnaev, in an unsolved triple murder in Waltham, Massachusetts, on 09/11/2011.
Tamerlan Tsarnaev was interviewed by federal officers in 2011, probably after a tipoff from the Russian authorities. The matter was closed when it did not produce any derogatory information.
Tamerlan  Tsarnaev had returned to the Caucasus for six months, from January to July 2012, during this time he saw his father Anzor  Tsarnaev in Dagestan. Anzor  Tsarnaev told the New York Times that during the visit he and his son "went to Chechnya to visit relatives".
A YouTube account that appears to have been run by the Tamerlan  Tsarnaev since late 2012, after he returned from Russia, includes a playlist devoted to Timur Mutsuraev, a Chechen singer now in exile who sang of the republic's battle for freedom from Russia. His account also includes a playlist devoted to "terrorism", including one video in English entitled "The Emergence of Prophecy: The Black Flags from Khorasan". He also maintained a playlist devoted to Islam. The Youtube channel features videos from the one of the leaders of the insurgency in Dagestan who goes by the name Amir Abu Dudzhan. YouTube appears to have removed two of the videos but in a third features Dudzhan calling for jihad, Holding a Kalashnikov rifle, he says, "Jihad is the duty of every able-bodied Muslim".   Among the other videos on his channel is one with the Australian Salafi militant Faiz Muhammad.
The report also shows Tamerlan  Tsarnaev to have been very religious, and poorly integrated in the USA. . "I don't have a single American friend," he is quoted as saying in this photo essay.
Tamerlan  Tsarnaev is suspected to place one of the bombs in the Boston Bombings, on Monday 04/15/2013. He was shot dead by the police on early Friday 04/19/2013 after he and his accomplice robbed a 7-Eleven, shot a police officer to death, carjacked an SUV and hurled explosives out the window in an extraordinary firefight with law enforcement.
** "According to Todashev, Tamerlan Tsarnaev participated in the Waltham triple homicide",  on 09/11/2011, the tenth anniversary of The 9/11, the federal prosecutors stated on 10/22/2013.
All three victims in Waltham were stabbed in the neck in exactly the same manner, the medical examiner said. The victims were identified as Brandon Mess, 25, of Waltham; Erik Weissman, 31, of Cambridge; and Raphael Teken, 37, of Cambridge.

In that case, three men were found in an apartment with their necks slit and their bodies reportedly covered with marijuana. One of the victims was a boxer and friend of Tamerlan Tsarnaev back in 2010.
—————————-
* Djokhar  Tsarnaev –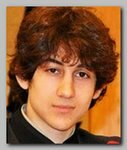 Djokhar Tsaenaev was born in 1993, probably also in Kyrgyzstan. According to his page on the Russian social network VKontakte (the Russian version of Facebook), Djokhar  Tsarnaev attended School Number One in Makhachkala, Dagestan's capital in 2001 before moving, in 09/2002, in the age of 9, to USA, as asylum seekers. His Father Aznor Tsaenaev is currently in staying in Makhachkala, the capital of Dagestan.
The last entry on Dzhokhar  Tsarnaev's page on VKontakte, posted on 19 March, shows a video of his brother humorously imitating various accents from the region, in fluent Russian. It shows that among the three groups to which he belongs are "Chechen's" and "Chechnya: Everything about the Chechen Republic".
Djokhar  Tsarnaev enlisted, in 2011, to Medicine studiesnat the University of Massachusetts Dartmouth and was granted the City of Cambridge 2011 Scholarship of $2,500.
USA citizenship in 09/2012. According to his friends Djokhar  Tsarnaev "was a familiar part of the community, he didn't isolate himself".
Djokhar  Tsarnaev is suspected to place one of the bombs in the Boston Bombings, on Monday 04/15/2013. He was found eventually, on the early hours of Saturday 04/20/2013, hiding in a boat in a Boston suburban homeowner's backyard. He was severely wounded, probably in the same shootout in which his brother was shot and killed.
* A preliminary examination of the cellphones and computers used by the Tsarnaev brothers has found no indication of an accomplice in the Boston Marathon bombing, according to a U.S. counter-terrorism source briefed on the FBI investigation, on 04/23/2013.
Dzhokhar Tsarnaev has also told investigators that he and his brother got instructions on building bombs from an online magazine published by al Qaeda referring to Inspire-Recipes.
Dzhokhar Tsarnaev has been convicted as charged in all 30 criminal counts, on 04/08/2015, ending the first phase of a terror trial that will now continue with a penalty phase to determine whether he will be executed.
** On 06/24/29015 was given, in Boston,  the death penalty. Before the sentencing Djokhar Tsarnaev broke his long silence and said  "I would like to now apologize to the victims and to the survivors".
**SEE – 05/01/2013 -3 ARRESTED FOR OBSTRUCTING THE BOSTON BOMBING INVESTIGATION
* Related topics ; 
***************************
Read more ;