– WOOLWICH BEHEADING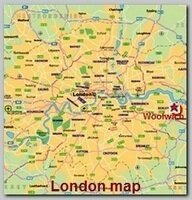 Two men shouting "Allahu Akbar [God is Great]", armed with machetes attacked on Wednesday 05/22/2013 at about 14:00 local time, a British soldier near the Woolwich Royal Artillery Barracks in East London. The soldier, later identified as Drummer Lee Rigby, 25, from the second battalion of the fusiliers, who was wearing a T-shirt of military Help for Heroes was stabbed, cut and beheaded in the main street in Public infront Mulgrave Primary school in John Wilson Str (see also – Londonstan). Lee Rigby served also in Afghanistan. 
After the attack, the two men, who were also in their 20s, stood around, waving knives and a gun, and asked people to take pictures of them "as if they wanted to be on TV or something".
"They were oblivious to anything, they were more worried about having their photo taken, running up and down the road," an eyewitness said. They dragged him from the pavement and dumped his body in the middle of the road and left his body there," he told LBC radio.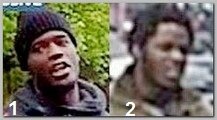 Shortly after the attack a footage has emerged showing a man dressed in a grey hooded jacket (1) wielding a bloodied meat cleaver and making Political statements. 
"We swear by the Almighty Allah we will never stop fighting you until you leave us alone. We must fight them as they fight us, an eye for an eye, a tooth for a tooth… I apologize that women had to witness this today, but in our land our women have to see the same. You people will never be safe. Remove your government. They don't care about you. Do you think David Cameron's going to get caught in the street when we start busting our guns? Do you think the politicians are going to die? No, it's going to be the average guy, like you", he said. 
Metropolitan Police Commander Simon Letchford said two alleged attackers had been shot by officers. 
He said: "Police were called to reports of an assault… where one man was being assaulted by two other men. A number of weapons were reportedly being used in the attack, and this included reports of a firearm. 
"Officers including local Greenwich officers arrived at the scene, and shortly after firearms officers arrived on the scene. "On their arrival at the scene they found a man, who was later pronounced dead. "Two men, who we believe from early reports to have been carrying weapons, were shot by police. They have both been taken to separate London hospitals. They are receiving treatment for their injuries" the Police Commander said.
* A blue vehicle believed to be involved in the incident was covered with red tarpaulin and towed away from the scene – it is thought the victim may have been hit by the car before he was attacked. 
* The Muslim Council of Britain said the murder was "a truly barbaric act that has no basis in Islam and we condemn this unreservedly". 
Meanwhile, two men have been arrested after separate attacks on mosques. A 43-year-old was held in custody on Wednesday night suspected of attempted arson after reportedly walking into a mosque holding a knife in Braintree, Essex. Another man was arrested in Gillingham on suspicion of racially aggravated criminal damage as around 250 supporters of the English Defence League gathered in Woolwich and clashed with police. 
* Both suspects in the killing of a serving soldier in London were known to security services -MI5, senior Whitehall sources have confirmed on 05/23/2013.
One of the suspects is understood to be 28-year-oldt Michael Olumide Adebolajo (1), according to sources. Officers are also understood to have carried out searches at addresses connected to Michael Adebolajo in Romford, Essex. He is believed to be a British citizen of Nigerian descent. Both he and the other suspect in the Woolwich murder are thought to have converted to a radical form of Islam.
They are not thought to have links to terror groups based in Nigeria, such as the jihadist organisation Boko Haram, however Adebolajo was reportedly known to Al-Muhajiroun, the banned Islamist organisation, and went by the name of Mujahid.
Anjem Choudary, the former leader of the group, confirmed he had known him,
The Independent
reported. He claimed he had converted to Islam in 2003 and had stopped attending meetings of Al Muhajiroun and its spin-off groups two years ago. 
* The second perpetrator of the attack was identified as
Michael Adebowale,
22, of Greenwich, south-east London (2). 
* London Metropolitan Police said, on 05/25/2013, counter terrorism officers arrested three men, aged 21, 24 and 28, on Saturday evening on suspicion of conspiracy to commit murder – a Taser was used on two of them.

. Another suspect , 22, was arrested on Sunday 05/26/2013. The arrest at Highbury Grove, on suspicion of conspiracy to murder, brings the total number made so far in the case to nine. The three first suspects were released on bail on Sunday 05/26/2013. 
* Related topics;
07/2012 -OLDHAM COUPLE GUILTY OF PLOTTING ATTACKS AGAINST JEWS 

01/2007 -BIRMINGHAM BEHEADING PLOT
********************************
Read more ; 
THE NEWYORKER                                             MORE IN GUARDIAN