– MUHAMMAD ALI AL-ZAHAWI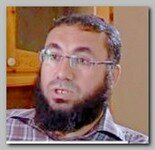 Muhammad Ali al-Zahawi, the commander of Ansar Al-Sharia (Lib), was born in 1968 in Eastern Libya. During the LIbyan Civil- War in 2011 Muhammad Al-Zahawi formed his own brigade (militia) to fight Muammar Gaddafi's army. 
After the civil war ended, in late 2011, Muhammad Al-Zahawi's brigade and other brigades formed an loose coalition they called Ansar Al-Sharia (LIb) with an ultra-conservative interpretation of Islam and the goal to impose Islamic law (Sharia) on Libya. 
"It is not the right time we give up our arms because we are in a battle with the liberals, the secularists and the remnants of Gaddafi," Muhammad Al-Zahawi explained in an interview to BBC in Arabic, published on 09/18/2012, a week after the attack on USA Consulate in Benghazi (see -AQ-Benghazi Raid). He also confirmed in the interview that his brigade had demolished and desecrated Sufi shrines in Benghazi, which they regard as idolatrous. Muhammad Al-Zahawi insisted his group is not linked to Al Qaeda. 
* Related topics ; 
06/2012 -THE LIBYAN SPLIT   

05/2012 -MORE LIBYAN WEAPON SEIZED IN EGYPT
**************************
Read more ;