– 32 KILLED IN BAGHDAD SUICIDE ATTACK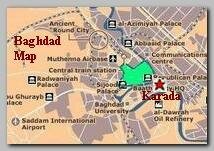 32 people have been killed and at least 90 wounded, on Monday 07/28/2008 morning, in suicide attacks against pilgrims in the Iraqi capital, Baghdad, police say.
The attack, carried out by three female suicide bombers, targeted Shiaa Muslims heading for the Kadhmiya shrine in the north of the city for annual ceremonies (see – Samira Jassim). The bombers struck as pilgrim convoys passed through the central Karada district despite heavy security measures because of the pilgrimage. (See also –  Kadhmiya 01.07.08 )
Religious festivals in Iraq, which often see thousands of Shiaa pilgrims walking to a shrine, have been rottenly targeted by Sunni insurgents in recent years.
On Sunday, gunmen shot dead seven pilgrims in the southern outskirts of Baghdad despite tight security. On 08/31/2005 more than 1000 people, taking part in the pilgrimage, died in a stampede at a bridge on the route to the shrine when a Sunnite insurgence group opened mortar fire on the crowd.
Few hours later other 25 people were killed and  130 other were wounded in yet another suicide attack, in the Northern town of Kirkuk, within a Kurdish gathering in what seems a beginning of a new wave of violence in Iraq.
* Related topics –  
–
06/2008 -35 KILLED IN IRAQ  
04/2008 -IRAQ SUICDE BOMBER KILLED 45  
02/2008 -ABOUT 100 KILLED IN BAGHDAD  
02/2008 -OVER 40 PILGRIMS KILLED IN IRAQ
********************
Read more ;