– PRESIDENT PERVEZ MUSHARRAF RESIGNED
–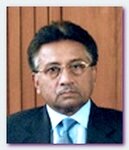 Pakistani President Pervez Musharraf, facing impeachment by parliament, has announced that he is resigning ,on Monday 08/17/2008 noon.
In a national televised address he said he was confident the charges against him would not stand, but this was not the time for more confrontation. The charges against the president include violation of the constitution and gross misconduct.
He has been one of the United States' strongest allies in its war against Islamist extremism and the Global Jihad. His political rivals swept to power in 02/2008 in national and provincial elections after months of political confrontation and worsening militant violence.
President Pervez Musharraf began his address by saying that when he took over in a military coup in 1999, Pakistan was going to be declared a failed state and faced great economic challenges.
Mr Musharraf decided to address the nation as ministers warned over the weekend that impeachment proceedings against him could begin as early as Tuesday of this week. The drive to impeach him has been led by Nawaz Sharif, the head of Pakistan's second biggest political party, the PML-N. It was Mr Sharif who President Musharraf, then head of the army, deposed in a bloodless coup in 1999.
He was forced to give up control of the armed forces last year in a power sharing political deal with the deceased Benazir Bhutto backed by USA.
The president's public standing suffered a huge setback in 2007 when he sacked Pakistan's chief justice and nearly 60 judges to prevent them from overturning his re-election as president and Bhutto assassination in 12/2007.
Musharraf's resignation is a major challenge to the stability of democracy in Pakistan (see – Testing Democracy). 
* Related topics ;  
–
07/2007 -PAKISTAN'S  AMBIGUOUSNESS
*********************
Read more ;