– 11 MORE KILLED IN ALGERIA DOUBLE BLASTS
–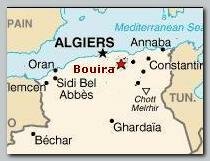 Just a day after the devastating suicide attack in Issers which killed 43 people, 11 people have been killed and 31 injured (see – Issers 08.19.08), on Wednesday 08/20/2008 noon, by twin car bombs near a hotel and a barracks in Bouira, about 100km (62 miles) South East of the Algerian capital, state media say.
The country has been rebuilding with the help of oil and gas profits after a brutal civil conflict in which Islamist militants led an insurgency against state security forces.
Many recent attacks have happened in the area east and south of Algiers, which borders the mountainous Berber region of Kabylia.
One of the bombs went off near the Hotel Sofi and the second near the military headquarters in Bouira. The blast at the hotel hit a nearby passenger bus, reports said.
Algeria's government has long said Islamist insurgents are desperately seeking to raise their profile as they are isolated by security forces. There have been no immediate claims of responsibility for this week's attacks but Previous bombings have been claimed by MAGHREB al-Qaeda.
There is no doubt that Al Qaeda infrastructure in Algeria managed to recover and gain power (see – MAGHREB Surge ).  
* Related topics –
–
06/2008 -13 KILLED IN ALGERIA BOMBINGS  
06/2008 -TWO BOMBS EXPLODED IN ALGERIA  
07/2007 -BOUIRA  SUICIDE ATTACK
******************
Read more ;