– MUSLIMS IN SOUTHERN PHILIPPINES WARN OF WAR
–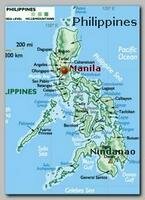 The Philippine separatist group Moro Islamic Liberation Front – MILF has warned, on Wednesday 08/20/2008, the government against launching an all-out offensive in the country's south, saying it would be "the most serious blunder that this sitting regime could commit".
Filipinos will be caught again in the "never-ending vicious cycle of political and economic instability", the Muslim separatist group said in a statement on its website.
The warning comes a day after the Philippine military chief vowed to hunt down separatists who attacked two towns in the south, on Monday 08/18/2008, that left at least 34 mostly civilians dead, saying the time to give peace a chance was now over.
In a radio interview on Wednesday, Abdullah Macapaar, an MILF field commander blamed for ordering attacks on the two coastal towns said his fighters were running out of patience with the government peace process. "If the government declares an all-out war, we will also declare an all-out war in Mindanao," he said. "We are ready to kill and be killed. The patience of Muslims has run out."
Abdullah Macapaar, also known as Bravo, said his group had "nothing to do with" Monday's deadly attacks in Lanao del Norte province (see – Lanao 08.17.08).
The MILF leadership had distanced itself from the attacks on the towns and blamed renegade fighters led by Bravo frustrated at delays to finalizing a peace agreement with the government.
Bravo and Ameril Umbra Kato, who led the occupation of predominantly Christian villages in the south last week (see – Pikit 08.10.08 ), had a $113,000 arrest bounty placed
The Pilipino Supreme Court suspended, on 08/19/2008, the draft accord, raising new tensions, and the situation on the ground has deteriorated rapidly since then
Hawks on both sides have seized on the stalling of the peace moves to re-ignite fighting that has been mostly dormant since 2003.
* Related topics –  
–
12/2007 -MOBIN ABDURAJAK KILLED IN TAWI-TAWI  
PROFILE -AL-HAJJ MURAD EBRAHIM
**********************
Read more ;