BBC News
– POLICEMEN IMJURED IN WESTERN TURKEY
Published
August 21, 2008
–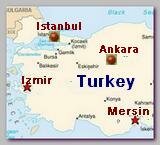 At least 13 people, among them policemen and soldiers, have been injured, on Thursday 08/21/2008, in an explosion in the western Turkish city of Izmir, according to Turkish media.
The explosion on Thursday morning ripped through a car on a road being used to transport police and soldiers in minibuses, the NTV news channel said. Seven police officers, three soldiers and three civilians were injured in the blast.
 "Our assessment is that the explosion was caused by plastic explosives detonated by remote control," Cahit Kirac, the governor of Izmir, was quoted as saying by state-run Anatolian news agency.
The explosion comes two days after a suspected suicide bomber pursued by police detonated a car, on 08/19/2008, in the southern city of Mersin, killing himself and wounding 12 officers.
* Related topics –  
–
08/2008 -3 INJURED IN ISTANBUL EXPLOSIONS  
07/2008 -6 KILLED IN ISTANBOUL ATTACK  
03/2008 -45 AL QAEDA SUSPECTS ARRESTED IN TURKEY
***************
Read more ;