BBC News
– OVER 63 KILLED IN PAKISTAN'S DOUBLE BLAST
Published
August 21, 2008
–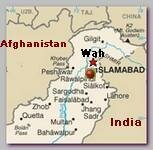 At least 63 people have been killed, on Thursday 08/21/2008 afternoon, in twin suicide bombings outside a munitions factory in the Pakistani town of Wah, about 30 km north of the capital Islamabad. At least 25 people have been critically injured.
The first blast took place outside the gate of the factory as workers were leaving work during a shift change. Minutes later another blast took place at another gate of the same factory.
Wah – in the province of Punjab – houses Pakistan's special weapons complex and most of its ordnance factories.
On Tuesday, 32 people were killed in a suicide attack on a hospital in the northern town of Dera-Ismail Khan.
* Related topics –  
–
08/2008 -THOUsANDS FLED PAKISTAN'S TRIBAL REGION  
07/2008 -PAKISTANI TROOPS AMBUSHED IN HANGU
**********************
Read more ;