BBC News
– 6 NATO SOLDIRS KILLED IN AFGHANISTAN
Published
August 22, 2008
–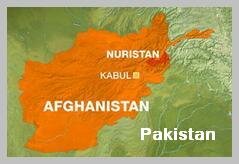 Just A day after 10 French soldiers were killed near Kabul, Afghanistan's capital, in a Taliban ambush (see – Kabul 08.19.08 ), six other NATO-ISAF soldiers have been killed, on Wednesday 08/20/2008, in new violence in Afghanistan,
Three of the dead are Canadians, bringing to 93 the number of Canadian soldiers killed there since it sent troops to the war-torn country in 2002. Wednesday's deaths are the worst one-day toll for Canadians since last year when six soldiers died in an explosion.
The other three dead were Poles killed, on Thursday 08/21/2008, in the province of Ghazni. The three Canadians died when a roadside bomb went off in southern Afghanistan, a Canadian army spokesman said.
There is a Taliban substantial increasing aggression in Afghanistan largely due to the ongoing political crisis in Pakistan. 
* Related topics –  
–
07/2008 -MORE CIVILIANS IN AFGHANISTAN BOMBED BY MISTAKE 
04/2008 -11 POLICEMEN KILLED BY TALIBAN  
03/2008 -3 NATO SOLDIERS KILLED IN AFGHANISTAN
*******************
Read more ;  
– AL QAEDA OPERATIVE CHARGED IN ISRAEL »