BBC News
– HOSTAGE TAKERS SHOT DEAD IN KASHMIR
Published
August 28, 2008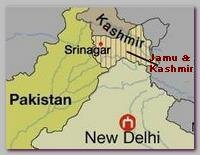 Three suspected militants have been shot dead and six hostages freed, on Wednesday 08/27/2008 midnight, in the Jammu area of Indian-administered Kashmir.  Security forces said. Two women and four children were rescued in the military operation, but the militants had killed three male hostages.
Troops had surrounded a house in the province's winter capital Jammu where the two sides exchanged heavy gunfire. Officials claimed the Islamic militants had slipped into India across the border from Pakistan a day earlier. .
Earlier, a man claiming to be one of the three militants in the house spoke by telephone to the BBC's Binoo Joshi in Jammu. The man identified himself as Talagira and said the rebels were protesting against the "atrocities committed on Muslims in Kashmir" (see – Bleeding Kashmir).
* Related topics –  
–
08/2008 -KASHMIRI INDIAN MUSLIM LEADERS ARRESTED  
07/2008 -5 KILLED IN KASHMIR EXPLOSION  
*********************
Read more ;