BBC News
– LEBANESE ARMY HELICOPTER SHOT DOWN
Published
August 28, 2008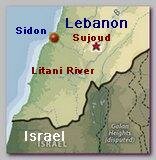 A Lebanese army helicopter flying over the southern village of Sujoud has been hit, on Thursday 08/28/2008 noon, killing an officer, a security official said.
"One officer was killed and several crew members wounded," the official said asking not to be identified but the region of Sujoud is under full Hizbullah control with no access to any other element in Lebanon.
Another security official said that the helicopter was conducting a training mission over the southern village of Sujoud when it came under fire and was forced to make an emergency landing. The origin of the fire was not immediately known.
The Telal Sujoud area lies some 20 km (12 miles) north  of the Israeli border.
* Related topics –   
–
08/2008 -16 KILLED IN LEBANESE BUS EXPLOSION 
****************
Read more ;