– DOZENS CIVILIANS KILLED BY U.S IN AFGHANISTAN
–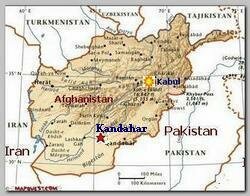 Afghan President Hamid Karzai has said about 40 people were killed, on Monday 11/03/2008 night, in a USA air strike in southern Kandahar province and many more were wounded when a wedding party was hit. USA officials confirmed civilian deaths and are investigating.
"We cannot win the fight against terrorism with air strikes," Mr Karzai said in comments directed at USA President-elect Barack Obama. "My first demand from the US president, when he takes office, would be to end civilian casualties in Afghanistan and take the war to places where there are terrorist nests and training centers," he said (see – IMAGINARY EXPECTATIONS ).
Hamid Karzai has repeatedly criticized the high level of civilian casualties in such bombings. The latest civilian deaths underline the challenges facing the USA president-elect and future commander-in-chief.
The incident happened late evening, on Monday 11/03/2008, in Shah Wali Kot district, a remote part of Kandahar province. NATO-ISAF had been involved in an operation against the Taliban – an air strike was called in but the missile struck a wedding party by mistake, killing as many as 40 people, women and children among them.
A spokesman for USA forces confirmed there had been civilian casualties and expressed sorrow for what had happened. An investigation is under way into what went wrong.
Civilian casualties are hugely damaging to foreign forces trying to wage a "hearts and minds" campaign in Afghanistan.
In 09/2008 the US military said that air strikes on 08/22/2008 killed 33 Afghan civilians, many more than previously acknowledged (see – Herat 08.22.08). In another notorious incident, an Afghan parliamentary investigation in 07/2008 found that a USA air strike in the same month killed 47 civilians in the eastern province of Nangarhar (see – CIVILIANS LIFE). Regional officials said those casualties were also attending a wedding party and that the bride had been killed.
Figures released in September 2008 by the United Nations said there had been a sharp increase in the number of civilian casualties – some caused by the coalition but most by the Taliban in Afghanistan. The report said that from January to August 2008, 1,445 civilians were killed – a rise of 39% on the same period last year.
* Related topics –  
–
10/2008 -AFGHAN CULTURAL MINISTRY BOMBED  
******************N*******************
Read more ;