– INDIAN POLICE FOILED A CAR BOMB ATTACK
–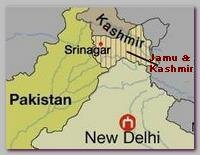 Jammu and Kashmir Indian police said, on Wednesday 12/24/2008, they have arrested a Pakistani soldier and two Jaish-e-Mohammed militants for allegedly planning a terror attack in India.
The three were allegedly plotting a suicide car bombing during the Jammu state elections, which begin the last phase Thursday, 12/25/2008. The Kolkata Telegraph reported.
The solider is from Pakistan's 10 AK (Azad Kashmir) Regiment, Jammu and Kashmir Police Chief Kuldeep Khoda told reporters. But that claim was disputed by an Islamabad military official, who said the man couldn't be an active Pakistani soldier because his serial number had the incorrect number of digits, and may instead be a deserter from Okara in Pakistan's Punjab province. Okara is the region from which 3 of the Mumbai Carnage perpetrators came from (see – Mumbai-attackers). 
Authorities said the three men, arrested Sunday at a hotel in Jammu, had been trained by Mufti Abdul Rouf, brother of Jaish-e-Mohammed chief Maulana Masood Azhar. India has been pressuring Pakistan to send Azhar across the border to face charges for his alleged part in the Mumbai terror attacks (see – INDIAN-Request), The Telegraph reported.
on Wednesday 12/17/2008 Pakistani Foreign Minister Shah Mahmood Qureshi said that the Pakistani regime "lost track" of one of India's most wanted militants, Maulana Masood Azhar, following his supposed arrest only a few days earlier (see – ANBIGUOUS PAKISTAN).
* Related topics – 
–
08/2008 -KASHMIRI SHEIKH ABDUL AZIZ KILLED  
********************
Read more ;