BBC News
– 5 KILLED IN MOSUL, IRAQ
Published
February 10, 2009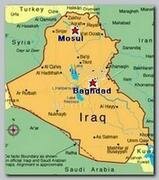 A suicide car bomb has killed, on Monday 02/09/2009 afternoon, four American soldiers and an interpreter in the northern Iraqi city of Mosul, the US military says.
Three soldiers were killed when the car detonated near their vehicle, while the other two people died later from injuries. (see also -Kirkuk 12.11.08)
It is the most serious attack on US troops this year (2009). More than 4,200 US troops have died there since 2003. The US currently has around 147,000 troops based in Iraq.
Only four American soldiers were killed in hostile action in all of January, the lowest monthly toll since the March 2003 invasion to oust Saddam Hussein. 
* Related topics – 
–
02/2009 -PROFILE OF HORROR -SAMIRA  JASSIM 
01/2009 -35 PILGRIMS KILLED IN IRAQ  
01/2009 -MILITANT LEADER CAPTURED IN IRAQ
*************************
Read more ;  
« – PIOTER STANCZAK BEHEADED BY THE TALIBAN