– DHAKA OFFERS ANTI-TERROR REGIONAL TASK FORCE
–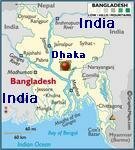 Bangladesh, on Monday 02/09/2009, proposed setting up of a regional task force to fight terror but received a lukewarm response from India which made it clear that such a framework alone was not enough and wanted "sincerity" shown to fight the menace.
Bangladesh foreign minister Dipu Moni on Monday mooted the proposal during the talks with external affairs minister Pranab Mukherjee who is on a daylong visit here.
Dhaka also assured New Delhi that Bangladesh soil will not be allowed to be used for to harm the interests of any country. India has conveyed its concerns to Dhaka over insurgents operating from Bangladesh.
"So far as the concept of regional task force to fight terrorism is concerned, already certain regional and international mechanisms exist. All of us are part of UNSC resolution….to ban terrorist outfits," Mukherjee said at a joint press conference with Moni.
* Related topics – 
–
09/2007 -BANGLADESH'S CARTOON  CONFUSION 
08/2005 -BANGLADESH  BOMBINGS  
**********************
Read more ;