– CAR BOMB DEFUSED IN A HAIFA MALL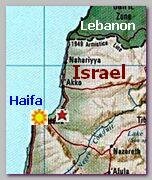 A major terrorist car bombing was averted at a Haifa mall, Israel, on Saturday 03/21/2009 night, when one of several explosive devices hidden in a parked vehicle malfunctioned. "We believe this is a terrorist incident," a police statement said.  
After being alerted by an employee of the Lev Hamifratz shopping center, who reported hearing an explosion at about 20:30, police sappers were dispatched to scan the area.
The sappers found a partially exploded bomb in the trunk of a blue Subaru car, which was parked outside the shopping center.  A further search of the vehicle uncovered several more unexploded bombs, which were defused. No one was injured.
Police immediately moved to evacuate the mall, which was filled with shoppers, and sealed off the area. A major road adjacent to the mall was also closed to traffic
It was not immediately clear how the vehicle managed to get past the security checks at the mall entrance. The car was registered to a woman who lives in Jerusalem, but police would not release her identity.
Northern Police spokesman Moshe Weitzman told The Jerusalem Post that "dozens of kilograms of explosives" were uncovered in the car.  "We have gone on alert and will remain prepared," Weitzman said.
The Galilee Liberators – Marei al-Radydah squad took responsibility on the failed bombing attempt as well as on a shooting attack near Jericho, a week earlier, in which two Israeli policemen were shot dead. The ephemeral organization said the attacks, and many more to come soon, are in retaliation for the destroying of Arab homes in East Jerusalem.
* About two weeks earlier an Israeli court approved to destroy few buildings in East Jerusalem, which were build illegally and after negotiation with the home owners failed.
.
 * Marei al-Radydah committed the Malha Rampage on 03/05/2009 .
.
 * The Blue Subaru used as car bomb was a duplication of a legal car owned by a woman in Jerusalem, which suggests that at least a part of the network which committed the failed attack is from Jerusalem.
.
* The car was loaded with about 50 kg of military explosive, in edition to other substances, which is suggesting that the infrastructure is located in the Palestinian West Bank, where caches of such explosives still exist. It also suggests that the name Galilee Liberators is used to divert and confuse the investigation.
* Related topics –  
–
02/2009 -KATYUSHA ROCKET SLAMMED NORTHERN ISRAEL  
02/2009 -UN ADMITTED TO FALSELY ACCUSE ISRAEL  
***************************
Read more ;