– ANOTHER RAMPAGE ATTACK IN JERUSALEM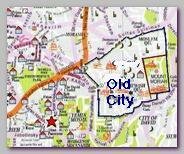 Just three weeks after the deadly Jaffa Rampage attack in Jerusalem, another identical copycat attack was carried out again, on 07/22/2008 at about 14:00, in Jerusalem.  
A Palestinian from East Jerusalem who drove a heavy wheeled tractor in a construction site went on the rampage at the kroner of Keren Hayssod and King David streets in West Jerusalem, wounded 24 by passers and smashed few cars including a buss. A police officer from the border police, who was assigned to the security operation of Barack Obama's visit in Jerusalem, and a civilian, shot the offender driver dead.   
It seems that the attack was timed to Barack Obama's visit in the town and inspired by the previous rampage attack. An ephemeral group, the "Galilee Liberators", took responsibility on the attack. It is the same group that claimed responsibility on the Jaffa Rampage attack and the Mercaz-Harav attack on 03/06/2008. 
Between the Israeli Arabs in the Galilee a small terror cell named "Galilee Liberators", inspired by Hizbullah, operated in the years 2003-6 and was responsible for the assassination, on 07/21/2003, of an Israeli Soldier – Oleg Shaichat.   

The perpetrator was identified as Rassan Abu-Tir from Um-Tuba in East Jerusalem and a relative of the Hamas Palestinian elected PM from East Jerusalem– Muhammed Abu-Tir. Rassan Abu-Tir was unmarried and known in his neighborhood as becoming, in the recent months, more devoted to Islam. 
Increase in the level of violence in Jerusalem was predictable. See – Jerusalem Alert
* Related topic – 
07/2008 -AL QAEDA CELL INDICTED IN ISRAEL   

06/2007 -ISRAELI KILLED BY HAMAS SHELLING  

03/2008 -PIJ LEADERSHIP IN BETHLEHEM DESTROYED   
******************
 Read more ;