– KASHMIR FIGHTING LEFT 17 MILITANTS DEAD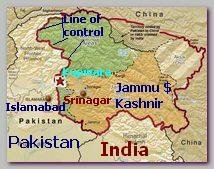 The Indian army said, on Wednesday 03/25/2009, 17 militants have been killed in a five-day-long gun battle with security forces in Indian-administered Kashmir. 8 soldiers have also died in the fighting in Shamsabari, the army said (see also – Abdulla Uni).
It said the fighting had stopped for the moment and the troops were carrying out combing operations. Overall, violence has fallen significantly in Indian-administered Kashmir since Delhi and Islamabad began peace talks in 2004.
Defense spokesman Col JS Brar said that the fighting broke out in the higher reaches of the Shamsabari range, near Kupwara, on Friday 03/20/2009 morning, after troops launched an operation to flush out the militants.
The identity of the militants killed in the gun battle is not known, and there has been no word from any militant group. iT has been the longest and bloodiest fire fight in Indian-administered Kashmir this year.
A ceasefire between Indian and Pakistani troops along the Line of Control – the de facto border that divides the disputed region between the two countries – is still holding. However, the peace process has been in abeyance since November's attacks in Mumbai Carnage in 11/2008.
Militant group based in Pakistan, Lashkar-e-Toiba, warned Wednesday of fresh attacks against Indian troops, and said its fighters were responsible for days of fighting in revolt-hit Kashmir.
The nearly 20-year old insurgency against Indian rule has left more than 47,000 people dead, according to official figures.
* Related topics – 
–
02/2009 -PRO-TALIBAN CONVENTION HELD IN MUZAFFARABAD  
**************************
Read more ;