BBC News
– 6 AL QAEDA SUSPECTS ARRESTED IN YEMEN
–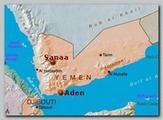 Yemeni security forces have arrested six suspected Al Qaeda militants, the interior ministry has said on Wednesday 03/25/2009. The alleged Al Qaeda cell was planning attacks on oil installations, foreign targets and tourists, a statement said.
The group is suspected of involvement in two suicide bomb attacks this month which killed four South Koreans (see – Shibam 03.15.09 ).
Security forces are continuing to hunt other members of the cell. No further details have been given.
A double car bomb attack on the US embassy in Yemen in 09/2008 killed at least 16 people. It was the second attack on the embassy in six months.
* Related topics – 
–
03/2009 -ANOTHER ATTACK ON SOUTH KOREANS IN YEMEN 
02/2009 -MILITANTS JAILED IN YEMEN  
02/2009 -176 AL QAEDA ACTIVISTS RELEASED IN YEMEN
***********-N-***************
Read more ; 
« – 20 BRITONS TRAINED WITH MILITANTS IN PAKISTAN