– BANGLADESH ORFANAGE USED FOR TERROR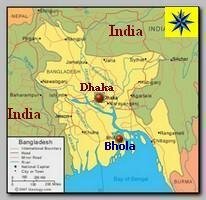 Bangladeshi authorities in Dhaka said, on Wednesday 03/25/2009, an orphanage run by a British was being used as a training camp and arms factory for Islamic militants.
Authorities arrested a teacher and three other people at the Green Crescent Madrassa and orphanage on the island of Bhola in southern Bangladesh after finding arms and explosives, The Times of London reported Wednesday.
Officials are reportedly searching for a British citizen known only as Faisal who is the head of the .
"We found small arms — about nine or 10 in total — plus equipment to make small arms, about 3,000 rounds of ammunition, two walkie-talkies, two remote control devices and four sets of army uniforms," Lt. Col. Munir Haque of the Rapid Action Battalion – RAB told the newspaper.
"We also found enough explosives and other equipment to make several hundred grenades," he said. "We found some ordinary Islamic books but others that are in line with extremists like Osama Bin Laden."
The Commission un UK said that the inquiry would focus on "determining the extent of the links" between the and the arms haul allegations. It will aim to find out "whether or not the , its funds, or funds raised on its behalf were used unlawfully and the role of the trustees".
The commission's website said that in 2008, Green Crescent had a turnover approaching £70,000 ($102,733).
The Bangladeshi police arrested, on Wednesday 03/25/2004, in Dhaka, Dr. Faisal Mostafa, 45, of Stockport, Greater Manchester in UK and the manager of the Green Crescent as the suspect of running a militant-training camp in the guise of an orphanage on remote Bhola Island. He was detained along with his "agent", a Bangladeshi citizen.
* Related topics – 
–
12/2008 -EXPLOSIVES SEIZED IN BANGLADESH
**************************
Read more ;