– AN INTEGRATED ATTACK IN BAGHDAD KILLED 32
–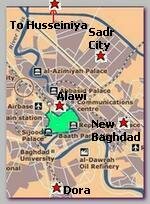 A series of 6 car bombs in Baghdad, on Monday 04/06/2009, has killed at least 32 people and injured 124 others, as the USA military announced its first combat death in weeks.
One blast tore through the crowded Shiaa district of Sadr City, killing 10 people and wounding 60.  The second bomb exploded in the busy central area of Allawi killed at least 5 laborers and injured more than 15.
In other attacks in the Iraqi capital on Monday, a car bomb missed the convoy of an interior ministry official, but killed 4 policemen in the neighborhood of New Baghdad. Another blast shook a market area of Husseiniya, on Baghdad's northern outskirts where 2 people were killed and 12 others wounded.
A fifth car bomb exploded near the Doura district, killing four people and injuring 15 more, according to police. The location of the sixth car bomb is yet unclear.
It is not clear if any of the attacks were connected but the number of car bombs is too high to be accidental.
The attacks come as violence across Iraq has fallen to levels not seen since 2003. However insurgents are still able to strike with deadly results, claiming more than 200 lives in both 02/2009 and 03/2009.
The 01/2009 figure of 191 Iraqis killed is the lowest monthly toll since the US-led war began in 03/2003.
USA military and Iraqi government officials have expressed concern that the violence might again rise as US troops are pulled out.
Meanwhile, the US military said one soldier had died as a result of a combat operation in the volatile northern Diyala province. The statement did not provide any details.
* Related topics – 
–
03/2009 -25 KILLED IN IRAQ FUNERAL 
****************-N-******************
Read more ;