– 7 KILLED IN AN EXPLOSION IN KADHAMIYA, BAGDAD
–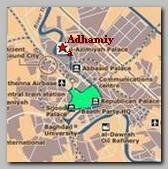 A bomb has exploded, on Wednesday 04/08/2009, in Kadhamiya, a mainly Shiaa Muslim part of Baghdad, killing 7 people and injuring at least 20 others, Iraq police said.
the device had been left in a plastic bag in a pedestrian-only area filled with jewelers and clothing shops.
The blast was in a shopping area in Kadhamiya, near the most important shrine for Shiaa Muslims in the city. A day earlier, nine people died in another bombing in the area.
That followed a series of attacks on Monday killing 34, raising fears that violence levels in Iraq may rise again after reaching their lowest since 2003.
Last January, a man disguised as a woman blew himself up near the shrine, killing more than three dozen people and wounding more than 70.
The attack occurred a day after Barack Obama made his first visit to Iraq as USA president. On an unannounced trip to Baghdad, he said the time had come for Iraqis to "take responsibility for their country". He reconfirmed his plans to withdraw all US troops from Iraq by the end of 2011 (see – IRAQ-US DEAL ).
* Related topics – 
–
04/2009 -9 KILLED IN BAGHDAD 
*************-N-***************
Reade more ;