– A SECOND DAY OF CARNAGE IN IRAQ
–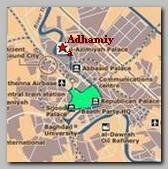 Two female suicide bombers have attacked, on Friday 04/24/2009, Baghdad's main Shiaa shrine, killing at least 60 people and injuring 125 others, officials in Iraq said (see also – Samira Jassim).
The attack happened at the Imam Moussa al-Kadhim shrine in the Kadhimiya area as people gathered for Friday prayers. The bombers detonated their explosives belts within minutes of each other near two gates of the revered shrine, which was crowded with worshippers. Around 25 of the dead were Iranian pilgrims, Iraqi police said.
It comes just a day after 84 people were killed in two separate suicide attacks in Baghdad and Baquba (see – Baghdad 04.23.09) and despite the arrest of Abu Omar al-Baghdadi. Many victims in Baquba and in Baghdad were Iranian pilgrims and the violence was condemned in Tehran.
Attacks like these that helped fuel the cycle of sectarian violence that took many thousands of lives in 2006 and 2007.
Many Iraqis will be worried it could be a sign of worse to come when USA troops complete their withdrawal, as they are supposed to do by 2011.
At Friday prayers in Tehran, Ali Akbar Rafsanjani – the influential Iranian cleric and former president – condemned Thursday's attack on pilgrims.
"The incident yesterday was a very, very hateful example of those who harm religion in the name of religion," he said in a sermon broadcast live by Iranian radio. "We feel sorry for the Iraqi people because such corrupt groups have penetrated into Iraq. We also criticise America for not having the serious will to preserve Iraq's security."
Meanwhile, new statistics from Iraq's health ministry say that since 2005 when violence worsened more than 87,000 Iraqis have been killed.
The figures are based on hospital and mortuary records and are seen as significant given the heated and highly politicized debate over the human cost of the war in Iraq, our correspondent says.
* The Iranian Supreme Leader Ayatollah Ali Khamenei blamed, on Friday 04/24/2009, the USA and the Zionist Mossad for committing the bomb attacks in order to kill Iranian pilgrims.
–
04/2009 -16 KILLED IN AN IRAQI ARMY BASE  
01/2009 -35 PILGRIMS KILLED IN IRAQ
**************N***************
Read more ;