– SCORES KILLED IN IRAQ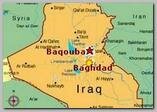 In Baghdad, a suicide bomber detonated a belt of explosives, on Thursday 04/23/2009 noon, as police distributed aid to a crowd of homeless families in Baghdad, killing at least 28 people including 5 children. More than 50 people were wounded in the blast.
Another suicide bomber attacked a group of Iranian pilgrims in the north-eastern city of Baquba killing at least 45, reports say, bringing the number of fatalities to over 70 in one single day.  
Officials in Baghdad said the suicide bomber had infiltrated the crowd of displaced families as they received supplies from police in a square near the city centre.
In yet another development the Iraqi police announced the arrest of Abu Omar al-Baghdadi (nick name).  Abu Omar al-Baghdadi is said to be the leader of the "Islamic-State of Iraq", a self-styled umbrella organization for Al Qaeda affiliated insurgent groups fighting USA and Iraqi forces.
A day earlier, on Wednesday, the USA Department of Defense's top Middle East adviser said insurgent attacks will probably increase as US forces start to leave, but there was no plan now to delay troop departures.
President Barack Obama has said the Pentagon will withdraw all but 35,000 to 50,000 troops from Iraq by the end of August 2010.
A joint security agreement requires all US troops to be out of Iraq by the end of 2011.
* Related topics –  
–
04/2009 -16 KILLED IN AN IRAQI ARMY BASE  
************-N-*************
Read more ;