– ABOUT 100 UNINVOLVED KILLED IN AFGHANISTAN
–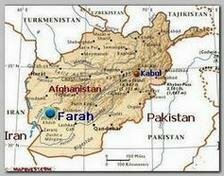 Ninety-five Afghan under the age of 18 are among the 140 people said to have died in a recent USA – Taliban battle, on Sunday and Monday 05/04-5/2009, in Farah province in Western Afghanistan, a lawmaker involved in the investigation into the deaths said Wednesday 05/13/2009. The USA Army disputed the claim saying the graves they saw looked too small to contain so many victims.
Afghans blame USA airstrikes for the deaths and destruction in two villages. American officials say the Taliban kept villagers hostage during the fight, and a spokesman said payments to the bereaved offered incentive to exaggerate the death toll.
The International Red Cross has said that women and children were among dozens of dead people its teams saw in scattered in the villages in the immediate aftermath of the bombing. It did not provide an overall figure.
If the Afghan toll is correct, it would be the largest case of civilian deaths since the 2001 USA led invasion to oust the Taliban.
U.S. military spokesman said "there is no physical proof that can substantiate" the Afghan list of victims. The U.S. has refused to release a number of people it thinks died in the May 4-5 clash in Farah's Gerani and Ganjabad villages.
Julian said a joint U.S.-Afghan investigation team was taken to three different grave sites a day after the clash — one with four mounds, one with 22 mounds and one mass grave that contained an unknown number of bodies.
"The locals couldn't decide among themselves whether it was 19 or 69 in that mass grave," Julian said. He added that the dirt displaced from the mass grave seemed to indicate far fewer than 69 bodies were buried there.
Julian also said that no one had indicated graves where the insurgents were buried, suggesting some of those buried were militants.
* Taliban grip in Farah province, close to the Iranian border, was always very partial and rickety. 
* Related topics – 
–
10/2008 -TALIBAN AMBUSH KILLED MANY 
09/2008 -SCORES ABDUCTED IN AFGHANISTAN  
*************-N-***************
Read more ;