– EGYPT EXPOSED HUGE ROCKETS STASH MEANT TO GAZA
–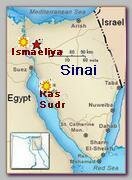 Egyptian Security Forces uncovered an immense munitions cache near the Israeli border, the London published newspaper Al-Quds Al-Arabi reported on Friday 05/15/2009.
An Egyptian official assessed that the 266 rockets!, 51 mortar shells, 21 grenades and 43 mines uncovered near Ismaeliya in northern Sinai, on Monday 05/11/2009, were meant to be smuggled to Hamas forces in the Gaza Strip (see – EG Hizballah Network ).
Egypt has recently intensified its security presence in the border town of Rafah, setting up checkpoints and dirt roadblocks to reign in smuggling into Gaza through Rafah Tunnels, the pan-Arab Asharq al-Awsat newspaper reported at the beginning of the month.
About 500 policemen, including plainclothes officers, have been deployed in the city and on dirt tracks and side roads leading to the border, it said (see – Arab-Axis).
The increased security has led to heightened tension between smugglers and security officials, and in several incidents the former fired in the air when stopped by police.
Egypt is also doing its utmost to maintain stability between Israel and factions in the Gaza Strip in the wake of renewed attacks into Israel.
* Related topics – 
–
04/2009 -HUNT FOR HIZBULLAH SUSPECTS IN SINAI 
12/2008 -THE  IRANIAN  COBWEBS
************N***************
Read more ;