– PORT SUDAN BOMBING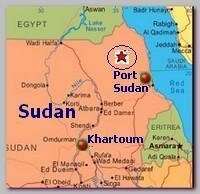 Israel carried out an airstrike in Sudan, in 01/2009, which killed 39 people, hitting a 17-truck convoy transporting arms earmarked for Gaza – the American TV network CBS reported on Thursday 03/24/2009. A government minister in Sudan was accusing the United States Air Force of being behind the airstrike. The airstrike said to have been "in a desert area northwest of Port Sudan city, near Mount al-Sha'anoon," according to Sudan-Tribune.
However, CBS News national security correspondent David Martin reported he had been told that Israeli aircraft carried out the attack. He claimed this was the "semi-official American version" of the event.
Israeli officials in the past have said that arms are funneled into Sudan and then to Egypt's Sinai where they pass through the tunnels into Gaza. The Israeli military issued a statement referring to the alleged January airstrike in Sudan saying "Israel does not comment on these kind of publications."
According to CBS, Israeli intelligence was said to have discovered that weapons were being trucked through Sudan, heading north towards Egypt, whereupon they would cross the Sinai Desert and be smuggled into the Hamas-controlled Gaza Strip.
In January, following OPERATION CAST LEAD, the US signed an agreement with Israel that calls for an international effort to stop arms smuggling into Gaza.
The first government official in Sudan to talk about it was the state minister for highways, Mabrouk Mubarak Saleem, who said: "A major power bombed small trucks carrying arms – burning all of them. It killed Sudanese, Eritreans, and Ethiopians and injured others."
An unidentified Egyptian official was quoted as saying that the planes that carried out the attack were based out of many regional countries, suggesting that it is likely to be Djibouti and that C-130 gunship aircrafts operating with USA Special forces carried out the attack.  
.
* Sudan's President Omar Bashir defies the international community and is scheduled to visit Egypt, on Thursday 03/26/2009, after a warrant was issued, on 03/04/2009, seeking his arrest on charges of war crimes in Darfur. The publication, which implicates Sudan in weapons smuggling to Gaza, is most likely timed to Omar Bashir's visit in Egypt.
* Fatih Mahmoud Awad, a spokesman for Sudan's Transport Ministry, said, on Thursday 03/26/2009 evening, as many as 800 people died in two attacks in January, and on a third attack, on 02/11/2009,. He said each convoy had more than a dozen vehicles. According to Fatih Mahmoud Awad 17 people were in the second strike. The third attack caused many of the smuggled weapons to explode and was by far the deadliest, he said. The weapons were "modern and expensive-looking," he said, and "were headed for Gaza probably."
* Sudanese Foreign Ministry official, Ali Youssef, was quoted as saying there were conflicting reports of the number of casualties.
* Intelligence sources with ties to the Sudanese regime said one of the attacks was on a weapon ship in the Red Sea and the ship was sunk. Other sources claimed the attack was carried out by Israeli UAVs and not by aircraft (UAV has not the capacity to sink a ship). American intelligence sources claimed, on Tuesday 04/07/2009, that the weapon ship was sunk by Israeli Navy commando and not by air strike.  
* Salah Bardawil, a senior Hamas official, denied that the vehicles hit were bearing weapons for Gaza.
Summary ;
* Except for the basic fact that there was, indeed, a mysterious air attack (or attacks) in North East Sudan on vehicles, it is not fully clear what really happened and who is behind it. 
* Mahmoud al-Mabhouh, the alleged coordinator of the weapons shipment, was killed in Dubai in unclear circumstances, on 1/19/2010.
* Related topics – 
01/2009 -CYPRUS SEARCHES THE WEAPON SHIP 'MONCHEGORSK'
06/2008 -THE IRANiAN NETWORK
2008 -DANGEROUS SUDAN
01/2002 -WEAPON SHIP 'KARIN A'
06/1995 -ADDIS ABABA ATTEMPT
************-N-**************
Read more ;