– US-MEXICAN BORDER IN THE FOCUS OF AL QAEDA
–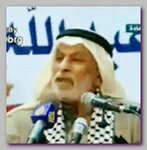 The USA border with Mexico was always a great concern also in the aspect of terror basically since the border, despite all efforts, is partially breached to movements of people, guns and drugs and it is obvious that some of the people could be terrorists and some of the smuggled goods might be explosives and/or even substances such as anthrax.
MEMRI (Middle East Media Research Institute) is an Israeli institution, which specialized in monitoring the Arab media including the web. MEMRI intercepted a footage, aired already in 02/2009, by the Arabic news network Al Jazeera and later posted to several Jihadi Web sites. In the footage a Kuwaiti dissident Abdullah al-Nafisi (pic), an Al Qaeda recruiter, tells a room full of supporters, in Bahrain, that Al Qaeda is casing the U.S. border with Mexico to assess how to send terrorists and weapons into the USA.
"Four pounds of anthrax — in a suitcase this big — carried by a fighter through tunnels from Mexico into the U.S. are guaranteed to kill 330,000 Americans within a single hour if it is properly spread in population centers there," the recruiter said. "What a horrifying idea; 9/11 will be small change in comparison. Am I right? There is no need for airplanes, conspiracies, timings and so on. One person, with the courage to carry 4 pounds of anthrax, will go to the White House lawn, and will spread this 'confetti' all over them, and then we'll do these cries of joy. It will turn into a real celebration" – Abdullah al-Nafisi told his audience. He also suggests that Al Qaeda might want to collaborate with members of native U.S. white supremacist militias who hate the federal government.
Although there is no evidence that Al Qaeda is already fulfilling the plan nor have Al Qaeda biological capacity to carry out such an attack, the footage is a clear indication that Al Qaeda is looking after a weakness in USA defense and the ambition to commit a mega terror attack is still there.
* Related topics – 
–
05/2004 -U.S SUMMER  ALERT 
***************************************
Read more ;