– YAZID  SUFAAT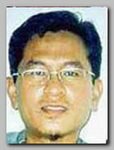 * Yazid Sufaat was born in Johor, Malaysia on 01/20/1964. In 1987 Yazid  Sufaat graduated from the California State University in Sacramento with a degree in biochemistry. He then served in the Malaysian army as a medical technician, reaching the rank of Captain.
In 1993 Yazid  Sufaat joined the INDONESIAN JI, after he got acquainted with Hambali, and set up a pathology laboratory in Malaysia called "Green Laboratory Medicine", at which he is suspected to try to weaponize Anthrax on behalf of Al Qaeda under the management of Mohammed Atef , the head of the Military wing of Al Qaeda and no' 3 in the organization. There is no evidence if or what progress has been made in using Anthrax as a weapon.
On 01/03/2000 Yazid  Sufaat attended the Kuala Lumpur Convention, that gathered to coordinate Al Qaeda operations for the next years. Four of the Kuala Lumpur Convention participants stayed at his home. He also provided lodging in Kuala Lumpur for two of The 9/11 future hijackers: Khalid al-Mihdhar and Nawaf al-Hazmi.
On 09/2000 Zacarias Moussaoui traveled to Malaysia to meet Yazid  Sufaat. Yazid  Sufaat provided Zacarias Moussaoui with 35,000$, travel documents from Malaysia and a letter identifying Zacarias Moussaoui as a commercial representative of Yazid  Sufaats' company – "Green Laboratory Medicine".
In 10/2001 Yazid  Sufaat was in Aghanistan, but because of the USA extensive bombings in the first stage of operation "Absolute Justice", he and Hambali fled to safety to Pakistan. From Pakistan Yazid  Sufaat returned to Malaysia, where he was later arrested.
Yazid  Sufaat, through his company "Green Laboratory Medicine", acquired in late 2001 4 tones of ammonium nitrate to be used as explosives by Fathur Rohman Ghozi, one of INDONESIAN JI bomb makers, in a foiled attack in Singapore which led to Yazid  Sufaat's arrest on 12/09/2001. He was detained in a Military camp in Northern Malaysia for extensive interrogations.      
From 04/2007 Yazid  Sufaat is being held in the Kamuting prison in Malaysia under administrative order. On 12/11/2008 Yazid  Sufaat was released from Malaysian jail.
** In an interview in a Malaysian website in early 03/2012 Yazid  Sufaat admitted he met Osama Bin Laden prior to The 9/11 and hailed the attack.
** Yazid  Sufaat was rearrested, on Thursday 02/07/2013, along with a woman named Halimah Hussein and a third man. Malaysian prosecutors have charged Yazid  Sufaat and the woman with inciting terrorist acts that could have involved violence in Syria (see – SYRIAN DILEMA ).
Malaysia's national news agency, Bernama, late on Thursday quoted unidentified sources as saying the suspects tried to recruit young people to be trained for missions that included suicide bombings.

* Related topics  – 
PROFILE – LIONEL DUMONT
PROFILE – FAIZ BAFANA
07/2001 -TARRAGONA MEETING

 

  
********************************
Read more  ;