– MODERATE SARFARAZ NAEEMI MURDERED IN LAHORE
–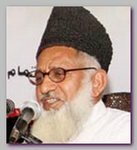 Dr Allama Sarfaraz Naeemi, a leading anti-Taliban cleric has been killed in a suspected suicide bomb attack, on Friday 06/12/2009, at his Islamic religious school in the Pakistani city of Lahore, when an explosion struck the Jaamia Naeemia Madrassa around the time of Friday prayers.
Another blast hit, almost simultaneously, a mosque close to a military depot in the North-Western garrison town of Nowshera, close to Peshawar, the capital of FATA administration.  At least three people were reported and several others injured in Nowshera.
In Lahore, a spokesman for the Jaamia Naeemia Madrassa confirmed that the school's senior cleric, Sarfraz Naeemi was killed by the blast. There were other reports of injuries.
A religious scholar opposed to the Taliban, he was known for his outspoken views against suicide bombings and militancy. Sarfraz Naeemi was one of the few scholars who had openly supported the ongoing military operation in Swat (see – Swat-Crisis). He had labeled the activities of the Taliban "un-Islamic". Sarfaraz Naeemi had in fact issued a decree describing the Taliban activities in the country against Islam and Shariaa law.
* Related topics –  
–
05/2009 -CAR BOMB KILLED OVER 30 IN LAHORE  
*****************************************
Read more ;